Kristin Hannah is back with The Four Winds
An epic, sweeping tale of love and loss set in the midst of the Great Depression in 1930s Amercia, by the multi-million copy global bestseller Kristin Hannah.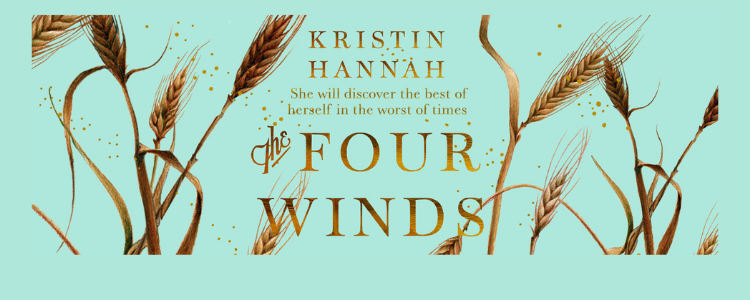 She will discover the best of herself in the worst of times...
The multi-million copy, number one bestselling author Kristin Hannah is back with her brand new novel The Four Winds this February.
Set in 1934 Elsa Martinelli is her sprawling family farm in Texas. She has everything she could hope for until a devastating drought threatens everything her family and community have worked for. Suddenly Elsa's life seems to be as volatile as wind, threatening to blow any of the four directions.
Fearful of the future, when Elsa wakes to find her husband has fled, she is forced to make the most agonizing decision of her life. Fight for the land she loves or take her beloved children, Loreda and Ant, west to California in search of a better life. Will it be the land of milk and honey? Or will their experience challenge every ounce of strength they possess?
From the overriding love of a mother for her child, the value of female friendship and the ability to love again – against all odds, Elsa's incredible journey is a story of survival, hope and what we do for the ones we love.
The Four Winds offers you an escape into the journey of hope, the trials of life and the overwhelming power of love. Available from all good bookstores nationwide this February! Listen to the first chapter HERE (the excerpt includes a bonus conversation between the author and narrator.)
What readers LOVE about The Four Winds
"Everyone should read this book. This is the new American classic."
"It will break your heart and bring you to tears. It will also be one of the best books you read all year!"
"This is historical fiction at its best: compelling, compassionate, enraging and courageous. I absolutely loved this book!"
"Gripping and captivating . . . heartbreaking and inspiring."
"We fall in love with a warrior who finds her power and strength, surrounded by love. Beautiful."
"BRAVO to the author, this is her best work yet."



Watch Kristin Hannah as she chats with her publisher, Trisha Jackson. They talk about her writing career, inspiration, authors that have influenced her and new books. She also answers questions from SA readers and booksellers.