Blood Trail ... behind the scenes of Tony Park's new novel
Do you believe someone could take a potion to make themselves invisible?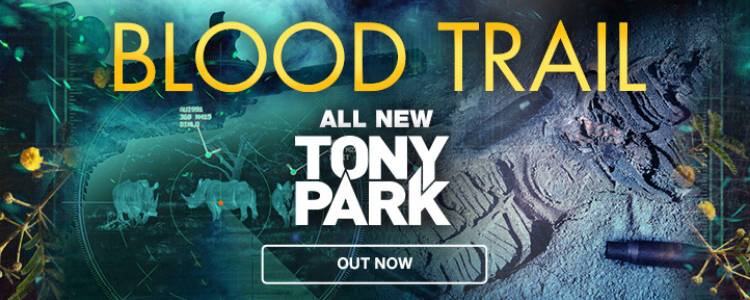 Evil is stalking South Africa's game reserves.
Is it murder or magic?
Viewers are shocked when a live lockdown webcast of a game drive exposes the brutal reality of rhino poaching...
Using magic, a poacher vanishes into thin air...
People go missing...
A bloody trail that seems to vanish at every turn...
Tony Park shares the behind the scenes of his latest thrilling novel, Blood Trail.

Do you believe someone could take a potion to make themselves invisible?
I don't, but if I'm out on safari and particularly want to see a certain type of animal - a leopard, for instance - I never, ever say the animal's name out loud. To do so would ruin my chances of seeing one. Crazy, right?

In fact, we're talking about the same thing – beliefs. Poachers hunting rhinos in southern Africa will often visit an isangoma, a traditional healer, to buy umuti, medicines or talismans to help make them successful in their illegal hunting, and to protect them from the bullets of anti-poaching rangers. The 'spells' (call them what you will), they believe, will turn them to water if a bullet comes towards them, or allow them to morph into the shape of an animal, such as an impala, confusing their pursuers. Rangers, too, carry or take umuti to keep them safe while on patrol.

The difference between the people paying for umuti and me following my superstition is that the rangers and poachers are engaged in high-risk, high-reward activities. They are, literally, in a game of life and death - I just want to photograph a leopard. The point about beliefs, as a couple of academics studying this very subject told me, is that one's beliefs are more focused, more serious, when one's life is at risk. Russian cosmonauts, I learned, urinate on the wheels of the vehicle that takes them out to the launch pad. Any non-Russian astronauts hitching a ride to the international space station must also do a wee on the tires, or something bad will happen. That's their belief, and they take it deadly seriously.
When you mix a life-and-death pursuit - poaching - with millennia of traditional beliefs in which an isangoma can, for a price, heal and protect against just about anything, it's little wonder poachers (and rangers) will pay to hedge their bets. I learned all this - well, some of it - over a cup of coffee with an academic friend of mine in a café in Hoedspruit a couple of years ago.

What if, I wondered afterwards, a poacher could actually disappear into thin air? How could it possibly be explained? Was it magic? Or was it something else? Could a wily rhino poacher really fool an ace ranger, such as plucky, but troubled Mia Greenaway, and her older, wiser Shangaan tracker, Bongani Ngobeni?
Could any criminal or gang fool the pluckier and now more-troubled, fearless Colonel Sannie van Rensburg? For the answers, check out Blood Trail.
CLICK HERE to read the first chapter of Tony Park's Blood Trail. 

Watch Tony Park introducing his new book (with a magical twist).
'"Park writes with vigour and the story unfolds at a steady pace with plenty of action and gunshots." - The Canberra Times '