A blogger reviews: Nevermoor
The paperback edition of the second book in the Nevermoor series, Wundersmith, is out now!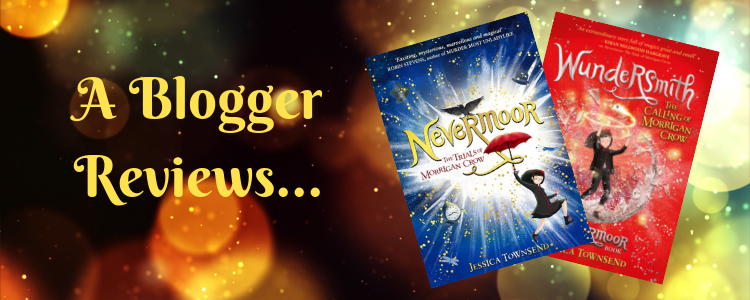 Read all about the magic of this incredible series by Jessica Townsend in this review by The Little Mouse that Reads. For more book news from the Little Mouse you can follow her here:
Instagram: instagram.com/mousethatreads
Blog: mousethatreads.wordpress.com
Nevermoor
Review by The Little Mouse that Reads
"They're supposed to wriggle," said Jupiter, noticing he look of disgust. "Wriggly things taste better."
From the moment I leapt into the Arachnipod alongside Morrigan Crow and was whisked away to a wonderfully imaginative and utterly rich world called Nevermoor, I was hooked.
————————
GOODREADS SUMMARY
————————
From the beginning of this fantastical tale I was immediately enthralled by the young lady of Crow Manor. When I first picked up this book, I was skeptical. I have not read middle grade for many many years (other than the occasional Harry Potter re-read) and so I was unsure whether or not I would enjoy this book or relate to the characters at all.
BOY WAS I WRONG!
Morrigan Crow is a cursed child, the cursed child we all deserve. She is unlucky and walks under a permanent rain cloud until the wonderful and enigmatic Jupiter North arrives on Morrigan's last day on earth to whisk her away to a land filled with vampire dwarves, giant cats and dragon riding, eye-patch wearing best friends.
Jessica Townsend's sincere and completely compelling writing draws the reader in and only spits them out once they get to the acknowledgements. Her characters are bright, vibrant and super unique. The setting is magical without being over the top. When reading about the interesting and mysterious hotel, the winding Brolly Rail and the city over Christmas Time I feel at home and at ease.
I love Hawthorne, Morrigan's best friend. He is so supportive and accepts Morrigan for what she is. Jack is the typical enemy at the beginning but over a heartwarming Christmas, they grow closer to one another. Their friendship is the perfect example of the friends to enemies trope that we all know and love.
Jupiter becomes Morrigan's father figure and is loving and caring towards her, which is the total opposite of Corvus Crow, her real father.
The storyline of this novel reminds me a lot of Harry Potter and the Goblet of Fire. Just like Harry, Morrigan has to prove her worth by competing in a series of life changing trials that test her strength and bravery. These trials are exquisitely written. They flow seamlessly with the rest of the story and don't feel out of place. I especially enjoyed reading the Fright Trial which was brilliantly written and perfectly executed.
————————
I would highly recommend this book to anyone of all ages. I cannot wait to read the sequel, Wundersmith, and I am excited to see the cover of the 3rd book.
Thank you Pan Macmillan for sending me this super fun and engaging middle grade book! I really enjoyed reading it.