Right mindset? Unstoppable child!
Best Back to School Reads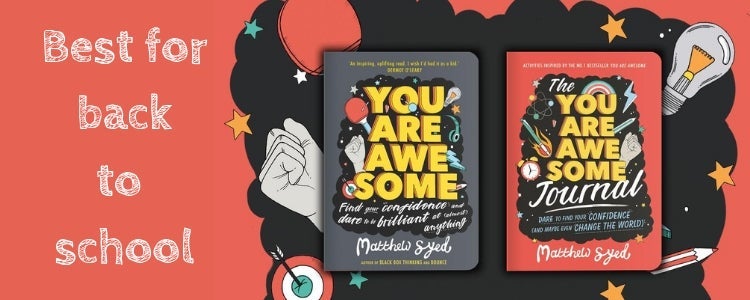 Beat the back-to-school blues with a book and journal that will inspire your child to plan, learn and most importantly, TRY. This fantastic book and journal by no. 1 bestselling author, Matthew Syed, builds confidence and helps children cultivate a growth mindset so that they can be healthy, happy adults.
Praise for You Are Awesome:
'"An awesome book about becoming awesome. How inspiring it is to know that there's a path to awesomeness and that anyone - absolutely anyone - can go down that path. This book shows you how."'

- Carol Dweck, Professor of Psychology, Stanford University
'"This motivational book is ideal for sharing with any youngster who might need a little bit of a confidence boost, especially if they are struggling with school work or sports. They will learn that by practising again and again, they can do anything their heart desires."'

- The Sun
'" You Are Awesome brings the enlightening writing of Matthew Syed to a younger audience. This is no flowery self help book. It is a carefully plotted narrative journeying through accessible evidence for the younger reader and inspirational examples of the benefits to the acquisition, for children, of a growth mindset. It is engaging, humorous and relevant for all young people. Destined to become a staple read for children at home and school." '

- Will Smith, Director, PiXL