Add some Heritage Classics to your bookshelf!
"These are both special South African novels that deserve another opportunity to be on shelves in bookstores." - Andrea Nattrass, Pan Macmillan's publisher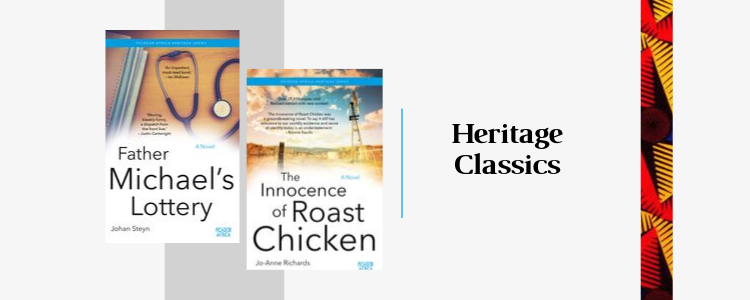 Celebrate Heritage Day by adding some South African greats to your bookshelf. These two revered authors' books have been held firmly in the memory of South African readers since their very first publications a few years back. Johan Steyn's Father Michael's Lottery and Jo-Ann Richards' The Innocence of Roast Chicken speak to the themes of hope and determined triumph in the midst of imperfect circumstances.
"The Innocence of Roast Chicken was a story that just wouldn't go away. I denied it for a good three years, but it stubbornly refused to budge. It became all I could focus on. Fearful of waking my young family, I spent my nights huddled on the bathroom floor with a torch, scribbling into a notebook. On that cold floor, my debut novel took shape. A farm materialised. A child was born, who loved it and believed that 'everyone should have a farm like that in their childhood'. But I could also see the brutal nature of her coming of age, and the adult she would become". - Jo-Anne Richards

"Father Michael's Lottery is a great-spirited novel that tells its tale – about a committed doctor's search for more "happy endings" in all-too-unpromising circumstances – with heart and passion and hope. The telling is fired by Johan Steyn's fervour for justice for poor patients in Africa, but also by his sense of humour and his love of the people, the birds, the animals and the vistas of our continent." - Judge Edwin Cameron