Andrew Harding wins the Sunday Times/CNA Literary Awards
Pan Macmillan is delighted to congratulate Andrew Harding – winner of the Sunday Times CNA Literary Award for Nonfiction.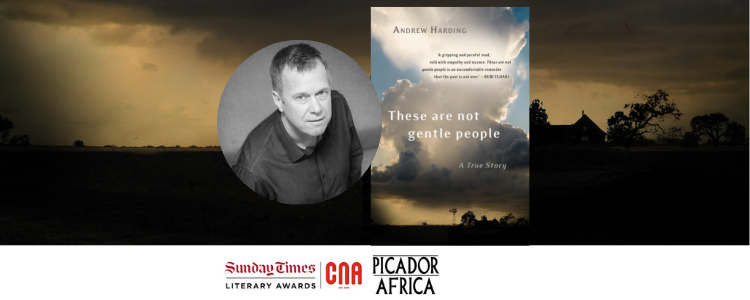 The winning title, These are not gentle people, is a true account of an event on a farm outside Parys in the Free State, which rocked the community and ripped families apart. It's a courtroom drama, a profound exploration of collective guilt and individual justice, and a fast-paced literary thriller.
''Every so often a book comes very close to defining a nation. In this extraordinary, fast-paced and exquisitely written true story, South Africa's brutal and divided past, its complex present and contested future collide in an explosive narrative... This is In Cold Blood meets Midnight in the Garden of Good and Evil.' – JUSTICE MALALA'
The chair of judges for the non-fiction prize Griffin Shea said: "This literary feast showed us the courage of SA's journalists, the intelligence of our academics, and the heart of our memoirists. Harding's book peers minutely into the complexities around land, crime and race." Shea, founder of Bridge Books, was joined on the panel by acclaimed journalist Nomavenda Mathiane and author Bongani Ngqulunga.

The book was published in 2019 by our imprint Picador Africa. Thank you to the Sunday Times and CNA for supporting reading and authors in South Africa.