Book recommendations from the Pan Macmillan team
We asked the Pan Macmillan team to share books they'd recommend. The recommendations cater for book lovers who enjoy different genres across all ages.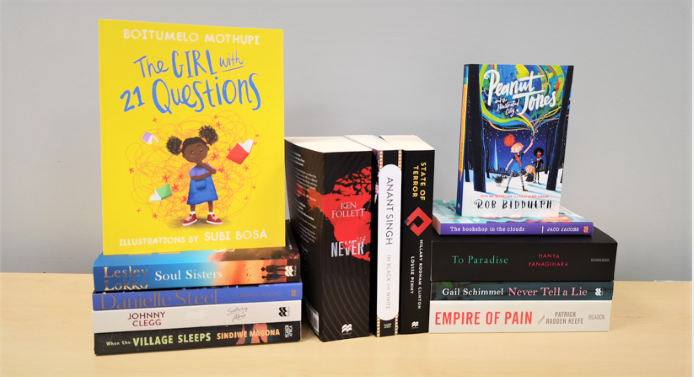 Scroll down to find your next read.


Lara Cohen
Children's Books Strategist
You Are a Champion by  Marcus Rashford
My standout non-fiction children's book for 2021 is Marcus Rashford's You Are a Champion. My ten-year-old son is a huge fan and I wanted to know more about the person behind the campaigns to feed children and increase access to books. You Are a Champion is a wonderful book. It's an inspiring and practical guide on how to become your best self. It's full of tips, ideas and real life stories that teach children how to set goals, deal with adversity, value supportive relationships and gain confidence. I really enjoyed the accessible and chatty style of writing. I am now a huge Marcus Rashford fan too!


Marianne van Loggerenberg
Sales Representative & Product Manager: Macmillan Children's Books and Walker Books
Peanut Jones and the Illustrated City by Rob Biddulph
My absolute favourite title of 2021 for 9 - 90 year-olds, is Peanut Jones and the Illustrated City, written and illustrated by the award winning author/illustrator Rob Biddulph.

Some legends are born, some are drawn...
Drawing feels like magic to Peanut Jones. But art can't fix her problems. Her dad has gone missing, and she's stuck in a boring new school. Until the day she finds a unique pencil turbo-charged with special powers. Suddenly she's pulled into a world packed with more colour, creativity, excitement and danger than she could ever have imagined. And maybe, just maybe, she might find out what happened to her dad. I love this book, because it made me smile from the beginning when I came to know of its written and illustrated existence. The illustrations compliment the text and I really felt as if I was inside the story experiencing what each character experienced. Reading it was a delightful and meaningful experience. The story brings alive a celebration of mystery, art, friendship and the incredible power of creativity.


Magdaleen Snyman
Associate Editor and Communications: Children's Books
The Bookshop in the Clouds by Jaco Jacobs
My recommendation for summer reading is a kids book (obviously).
This book is for anyone who believes that bookstores are magical places. Head in the Clouds looks like any other secondhand bookshop but the main character, Ella, soon discovers that a bookshop is a magical place where wonderful (and weird) things can happen to you. This book is perfect for summer reading because it takes the reader on a fun and thrilling adventure. The illustrations by Nadia du Plessis add another dimension to the story and are so cute and funny. Young chapter book readers will be inspired to dive into more amazing books after they close this one. 


Rhulani Netshivhera
Children's Product Assistant 
Complications by Danielle Steel
Complications is my 33rd book by Danielle Steel and once again, she did not disappoint. Set in Paris, I really enjoyed the story, the romance and the complications throughout the book.

Kissing Emma  by Shappi Khorsandi
Kissing Emma is one of the most powerful YA novels I've ever read. It explores some very difficult subjects such as sexual assault and domestic abuse. A story that all teenage girls (and even women) can learn something from. Shappi Khorsandi takes each difficult subject and handles it perfectly.


Frances Thorndike
Cape Town Sales Representative
To Paradise by Hanya Yanagihara
The People in the Trees was the author's first book, released in South Africa after the huge success of her second book, A Little Life. Please do not be put off by the sales of her first book, a great many had already read it when it hit shelves here. Only one author makes me bawl my eyes out, and she succeeds again with her third, and I think her best book. This novel follows three parallel narratives: a utopian New York of 1833 where there are no norms and no judgment; a 1993 New York of secret identities and disease; and a futuristic New York (2093) of pandemics and isolation. The story lines never fail, and the characters will make your heart ache.
** The book releases in 2022

The Christie Affair by Nina De Gramont
This is a fictionalised and romanticised historical novel that offers a take on what happens when Agatha Christie disappeared for 11 days in 1926. Gone Girl was also loosely based on the same premise.

From various sources:
Christie was 36 at the time and had already published several detective novels, including The Secret Adversary and The Murder on the Links. Her disappearance merited banner headlines the world over, making the front page of The Times on Dec.6.1926

Agatha Christie never spoke about the missing eleven days of her life and over the years there has been much speculation about what really happened between 3 and 14 December 1926. Her husband said that she'd suffered a total memory loss as a result of the car crash.

I think Mrs. Christie would find the writing too stirring, but the plot is certainly intriguing and the pacing is excellent. I read the whole thing in two nights.
** The book releases in 2022


Tazmin Morgan 
Sales and Marketing Coordinator 
Luster by Raven Leilani
Whenever I see shout quotes that describe a novel as 'razor sharp' I tend to read over that line and never remember it as I dive my way into a novel, but with Luster, Raven Leilani's writing is so bitingly honest and so outrageous and vulgar in some parts that you cannot help and pause after a few paragraphs and utter and audible, "what??" That for me is when a book jumps off it's pages and into your room, when it forces you to reckon with what you've read, cutting through the into the real world you inhabit like a sharp blade.

Ravens craft Eddie, her main protagonist who seems to be crashing from one disaster to the next in her life as a 20-something black woman working in publishing, a world that seems to pay more attention to her cultural capital than her unrealised potential. This theme of 'invisibility' throughout all sectors of Eddie's life is what renders her a wrecking ball to herself, choosing the absurd options which are sometimes the only option available because of the situations she has managed to climb into. She meets Eric, a middle-aged archivist, with a family of his own and in an 'open' marriage it seems. It is when she dabbles in relations with Eric that she flies too close to the sun of destruction and chaos ensues with her somehow living with Eric and his family as she has nowhere else to go. You want to scream at her to choose another option, ANYTHING else other than what she sets out to do and it will drive you mad as a reader at various points. You are constantly tossed between rooting for her and also not wanting her to get through it because 'she chose what she chose.'

But on a deeper level, at the crux of this novel, lies the interrogation into the theory of 'choice' in the context of circumstance. Yes, I may have wanted Eddie to make better choices for her life and her well-being but Luster asks you how much choice do you think someone has in desperate situations? We may have a whole host of options if we see ourselves in similar situations, whereas someone may just be a victim of their circumstance that makes them look like an intentional wrecking ball. And even then, they deserve our kindness, especially then. And Eddie finds that is the most unconventional character.

Luster is a novel that will have you meditating on society at large, the structure of the family and where modern society has led us. It is hilarious and deeply thought-provoking in the best ways. Luster is a read that will land up on your top read books for 2021, if you let Eddie in.   

 
Veronica Napier
Senior Publicist 
Empire of Pain by Patrick Radden Keefe 
This is my best non-fiction read of the year. I picked it up on a Friday evening, intending to skim it… I finished all of it (over 450 odd pages) by Sunday having read every word. That old cliché about a book you cannot put down. It's a riveting story, filled with  ruthless and scheming characters who could inhabit a Stephen King novel. But sadly they are rich and influential and very real. Brilliantly researched, it tells the devastating story of the destruction and heartbreak caused by the prescription painkiller Oxycontin and how a massive pharmaceutical company became a drug pusher. This caused over half a million deaths in the USA- this extraordinary story is angry, not flinching from telling the stories of those who lost children, family and friends to the meticulously planned campaign to make anyone in pain addicted to Oxycontin.

When The Village Sleeps by Sindiwe Magona
Grounded in the very harsh realities of South Africa's breaking social structures, the beauty of the prose and poetry is in harsh contrast to the brutality of the story. A story of several generations of women, of cities and villages, of loss of tradition and dignity and ultimately the triumph of the human spirit, courage and living gently in one's environment. A beautifully crafted, sad and joyful book. Not to be missed!


Deborah Miloa
Digital Communications Coordinator
The Girl with 21 Questions (Intombazanyana enemibuzo engu-21) by Boitumelo Mothupi
I loved the illustrations by Subi Bosa. The girl with 21 questions, Mathelane is a bright and brilliant girl. She reminds me so much of my nieces and the many questions they ask me every day. I'm always in awe of children, their imagination and wonder-filled nature. The Girl with 21-Questions is a beautiful and funny story of a girl who loved asking questions and when everyone around her grew tired of all her questions, she turned to books for the answers. It's an empowering story and a reminder of the importance of books. And the beauty of children and their sense of adventure.

Soul Sisters by Lesley Lokko
A perfect book club read! I say this because Soul Sisters is not one of those books you put away after you finish reading it. The story stayed with me for a while. There's one particular revelation in the story that I couldn't stop thinking about until I discussed it with my colleagues who read the book. It is a multi-generational tale of love, race, power and secrets which centers on the lifelong friendship between two women – themes that make for a complex but compelling read. Set against a political backdrop, the story spans over decades between two continents, offering a historical glimpse into the past and a mirror to present-day. Lokko writes time and geography perfectly with vivid-detail, and her characters are well crafted. I loved the rare and beautiful bond between the two main protagonists, Jen McFadden and Kwemisa Mashabane – their friendship was enduring, making it a true soul sisterhood. 


Andrea Nattrass
Publisher 
Scatterling of Africa by Johnny Clegg
In Scatterling of Africa, a much-loved music icon shares his origin story and his thoughts on identity and belonging. Johnny Clegg's voice echoes from the pages of this memoir, with stories and anecdotes that make his life and the history of the country come alive.

Never Tell a Lie by Gail Schimmel
A page-turner Never Tell a Lie, which will keep you completely entertained as you follow the twists and turns of friendships and the undercurrents that swirl beneath the surface.


Additional books recommended by our team and on their holiday's reading list


Listen to Pan Macmillan South Africa's MD, Terry Morris in conversation with Radio 702's Weekend Breakfast, Refiloe Mpakanyane. They chat about some of Pan's recent releases and notable, award-winning African books and authors of 2021:


Our team recorded a fun author Q&A with Gail Schimmel. Get to know Schimmel, watch our Q&A (the home edit) as she answers questions about her writing, family and more questions! Plus, get to meet her ancient cat and naughty (but cute dogs):

Blog compiled by Tsholofelo Matlhadji
Intern and University of Pretoria's Publishing (Honours)