Calling all Black Freelance Creatives!
Pan Macmillan SA is looking for Black Freelance Creatives to assist us in creating & shaping the books we publish, could this be you?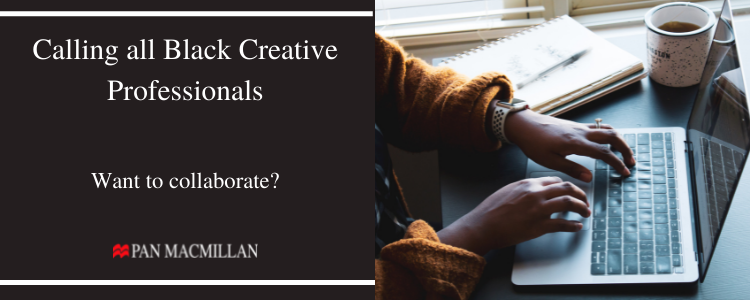 Pan Macmillan South Africa has announced a call for submissions from Black freelance professionals who have worked in or would like to work in book publishing.
It is not enough simply to publish Black authors.    
The face of the local publishing industry and its output is not going to become more representative without actively helping to develop Black authors and Black editorial staff.
Says Pan Macmillan SA's publisher Andrea Nattrass: "We are continually working to widen our efforts in this regard, including sponsoring a postgraduate creative writing scholarship at Wits."
We would also like to take this opportunity to congratulate Lidudumalingani Mqombothi, who is the 2022 recipient of the Chris van Wyk Creative Writing Scholarship with Wits University, which has been annually awarded to a deserving postgraduate candidate since its launch in 2014 to honour Van Wyk's inspiring writing legacy. The author of Shirley, Goodness and Mercy (2004) and Eggs to Lay, Chickens to Hatch (2010), as well as several children's books, was posthumously awarded an honorary doctorate from the university in 2019. He passed away in 2014.
Previous recipients of the scholarship have included Jarred Thompson, Shereen Mills, Lindiwe Nkutha, Bongani Ndlovu, Zanele Makhubo and Tuelo Gabonewe.
In the past Pan Macmillan has also partnered with Gamaphile to help support the development of new writers; has run open submission periods that aim to identify and help develop the new 'brand' authors of the future; and has hosted free publishing education webinars.
In addition, while Pan works within its local publishing team and with Black freelancers where possible across the publishing process, we recognise that this is an area in which we must urgently do more.
Pan Macmillan is looking for:
Ghostwriters
Editors
Proofreaders
Typesetters
Cover designers
To be considered, send your CV, including relevant book publishing experience, to pauline@panmacmillan.co.za by 30 April 2022