Douglas Stuart wins the 2020 Booker Prize for his debut novel, Shuggie Bain
A novel that The Booker Prize judges described as "an amazingly intimate, compassionate, gripping portrait of addiction, courage and love," – Douglas Stuart's blistering debut, Shuggie Bain is the winner of this year's prize.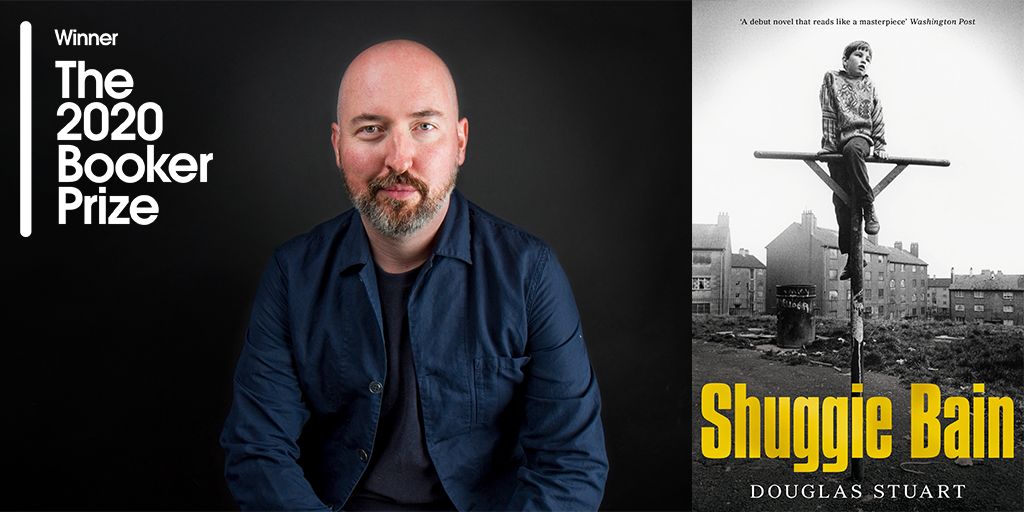 Congratulations to Douglas Stuart, winner of the 2020 Booker Prize for his debut novel, Shuggie Bain. The winner was announced on Thursday, 19 November, the ceremony was delivered live from the Roundhouse, London by Front Row and BBC Arts. Taking part in the socially distanced proceedings were Sir Kazuo Ishiguro, last year's winners Margaret Atwood and Bernardine Evaristo, chair of judges Margaret Busby, HRH The Duchess of Cornwall, and former President of the United States Barack Obama. Click HERE to watch the live ceremony. 

One of just six novels shortlisted for the 2020 Booker Prize, Shuggie Bain has received an outpouring of appreciation since its release. Chair of the Booker judges, Margaret Busby, said, "Shuggie Bain is destined to be a classic...a daring, frightening and life-changing novel."

The Booker Prize is the leading literary award, and has brought recognition, reward and readership to outstanding fiction for over five decades. Each year, the prize is awarded to what is, in the opinion of the judges, the best novel of the year written in English and published in the UK and Ireland.

Douglas Stuart is a Scottish - American author. Born in Glasgow, Scotland, he has an MA from the Royal College of Art in London and since 2000 he has lived and worked in New York City. He describes himself as 'a working-class kid who had a different career and came to writing late'. He wrote Shuggie Bain over a ten year period and is currently working on his second novel. His short stories, Found Wanting, and The Englishman, were published in The New Yorker magazine. His essay, Poverty, Anxiety, and Gender in Scottish Working-Class Literature was published by Lit Hub.

In Shuggie Bain, Douglas returns to the streets of his childhood. The story, set in Glasgow in the 1980s, follows Shuggie, a young boy growing up in a decimated mining town and struggling to help his mother in her battle with alcohol addiction. But despite the ruthless poverty that surrounds him, Shuggie believes that if he tries his hardest, he can be 'normal' like the other boys and help his mother escape this hopeless place. Shuggie Bain lays bare the ruthlessness of poverty, the limits of love, and the hollowness of pride. A counterpart to the privileged Thatcher-era London of Alan Hollinghurst's The Line of Beauty, it also recalls the work of Édouard Louis, Frank McCourt, and Hanya Yanagihara, a blistering debut by a brilliant writer with a powerful and important story to tell.


Reviews for Douglas Stuart's Shuggie Bain
Sunday Times (SA) - Normality that will break your heart
Reviewed by Sue de Groot
The words "powerful", "compelling" and "a universal story" are used in many book reviews. Rarely are they as appropriate as when applied to Shuggie Bain. Douglas Stuart's transcendent debut novel might be set in the bleakest reaches of Glasgow in the 1980s, but the characters that pop and crackle and snap in Scottish dialect from its pages are people we know: people with fatal flaws and lovable eccentricities; people trying by whatever means possible to crawl through to the end of each grinding day; people fed and fuelled by the illusion of a better tomorrow.  Read more HERE

CapeTalk (SA) – John Maytham shares his top books of the week
Listen HERE (04:00 – 06:00)
"…parts of this book are so grim that it becomes almost unbearable but it's leavened by this extraordinary love between this young boy and his calamitously drunk mother… it is a book that is so human, so compassionate, that the grimness of the lives that they live becomes bearable…"

The Guardian (UK) - Shuggie Bain by Douglas Stuart review – lithe, revelatory debut
Reviewed by Alex Preston
"Reading Shuggie Bain entails a kind of archaeology, sifting through the rubble of the lives presented to find gems of consolation, brief sublime moments when the characters slip the bonds of their hardscrabble existence. That the book is never dismal or maudlin, notwithstanding its subject matter, is down to the buoyant life of its two principal characters, the heart and humanity with which they are described. Douglas Stuart has written a first novel of rare and lasting beauty." Read more HERE

Watch to see why judges Lee Child, Sameer Rahim, Lemn Sissay, Emily Wilson and chair of The Booker Prize judges, Margaret Busby chose this wonderful book.