I Know This to Be True: Leaders and their truth
Inspiring individuals share what really matters to them in a new series inspired by Nelson Mandela.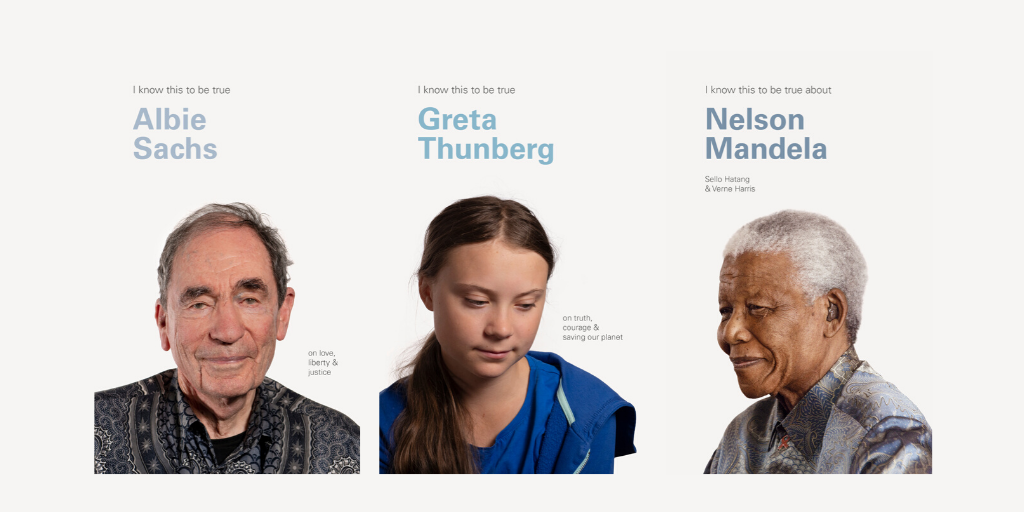 The first in an ongoing series of interviews with inspiring individuals from around the world has been released in June 2020 (in South Africa), first as books, and to be followed later by feature documentary. Entitled I Know This to Be True, the project is a collaboration between the Nelson Mandela Foundation and its long-time creative partners, Blackwell & Ruth.
Inspired by Nelson Mandela, I Know This to Be True was conceived to record and share what really matters for the most inspiring leaders of our time. I Know This to Be True is a Nelson Mandela Foundation project anchored by original interviews with twelve different and extraordinary leaders each year, for five years – six men and six women – who are helping and inspiring others through their ideas, values and work. The project has launched eight small books founded on original and authorized interviews with Albie Sachs, Bryan Stevenson, Gloria Steinem, Greta Thunberg, Jacinda Ardern, Ruth Bader Ginsburg, Stephen Curry and Waleed Aly. Each individual is asked fundamental questions about their values, daily disciplines and thoughts on the world. Alongside these, a unique title, Nelson Mandela: Guiding Principles by Sello Hatang and Head of Leadership & Knowledge Development, Verne Harris, explores the lessons that Mandela's incomparable leadership offers.

Across the series, messages of courage, compassion, humility, hope and generosity aim to motivate a new generation of leaders ready to create meaningful change.
We're pleased to have partnered with the Nelson Mandela Foundation and Blackwell & Ruth Publishers to bring you three of the eight books - the Albie Sachs, Greta Thunberg and Nelson Mandela: Guiding Principles.

Albie Sachs: on love, liberty & justice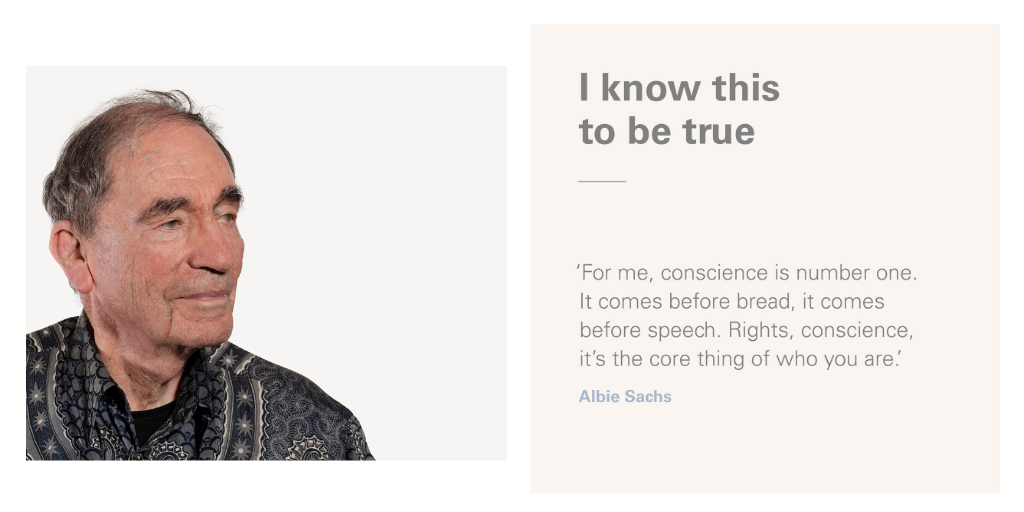 Former Justice of the Constitutional Court of South Africa Albie Sachs is one of South Africa's most inspiring social justice advocates. Here, in fascinating detail, he discusses the challenges he has encountered in his life as an anti-apartheid activist, his career in the court, and his role in the emergent new South Africa. From spending more than three months in solitary confinement to surviving an assassination attempt, throughout it all he has remained determinedly optimistic and drawn boundless strength from a deep-seated and unwavering belief in justice. Sachs's experiences are an enduring symbol of hope and persistence, and provide a potent message that the power of love and generosity can conquer all.
Greta Thunberg: on truth, courage & saving our planet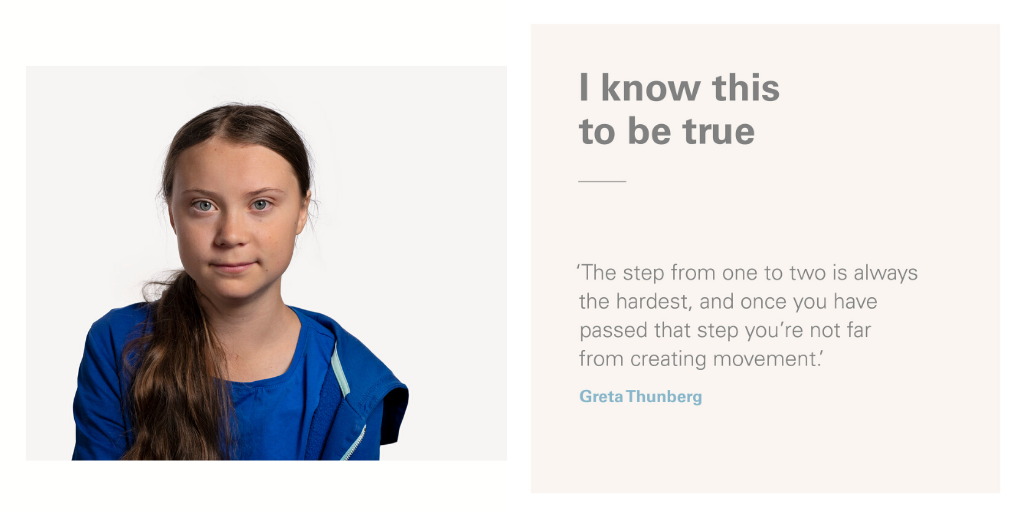 Still a teenager, Greta Thunberg is one of today's most prominent climate change activists. Her impassioned calls for action on global warming have captured hearts and minds around the world. In this inspiring interview, she discusses the irrefutable facts surrounding climate change, the need to hold political figures and lawmakers accountable and why every person has the power to make a difference. Immovable in her mission, Thunberg's story is a testament to the power of young voices and proof that, when guided by truth and perseverance, anyone can create meaningful change.
Nelson Mandela: Guiding Principles by Sello Hatang & Verne Harris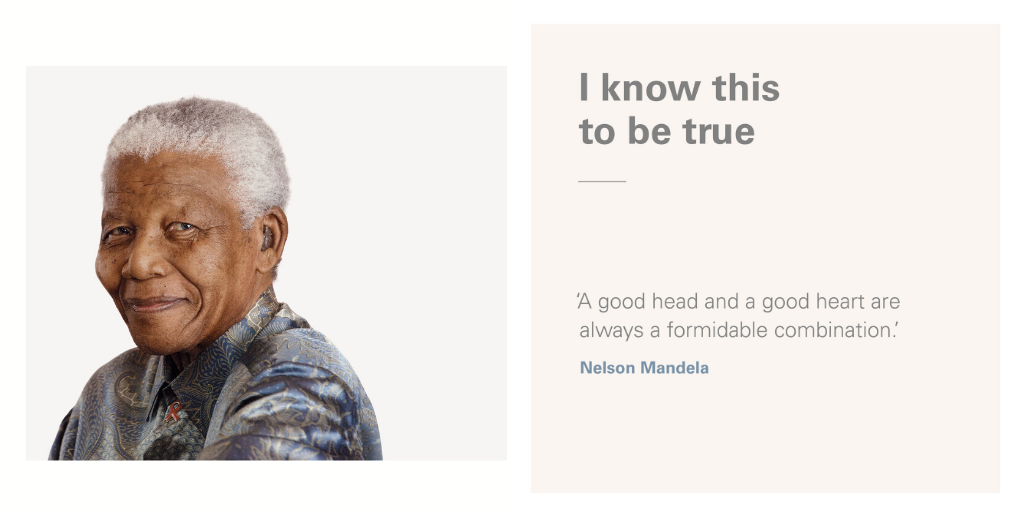 Revolutionary anti-apartheid leader Nelson Mandela devoted his life to ensuring liberation, equality and justice for the people of South Africa. Incarcerated for twenty-seven years, his endurance and faith in a justice to come remain an inspiration to all. Here, two of his former colleagues, Sello Hatang and Verne Harris, share little-known stories from his life as they explore the qualities and disciplines that enabled him to lead a country through seemingly insurmountable challenges. With excerpts from Mandela's own reflections, this book is a moving reminder of his legacy and encourages every reader to find and nurture the leader within.

For further information contact: Veronica Napier at Pan MacMillan - veronica@panmacmillan.co.za or Nikki Addison at Blackwell & Ruth - nikki@blackwellandruth.com
Biographies and cover artwork: copyright © Blackwell and Ruth Limited | Images copyright © Geoff Blackwell | I Know This to Be True: Nelson Mandela, cover artwork copyright © The Nelson Mandela Foundation. Images copyright © The Nelson Mandela Foundation, image by Andrew Zuckerman, copyright © Nelson R. Mandela.