Inspirational women writers you need to read
To mark International Women's Day and International Women's History Month, we celebrate some incredible local female writers you need to read.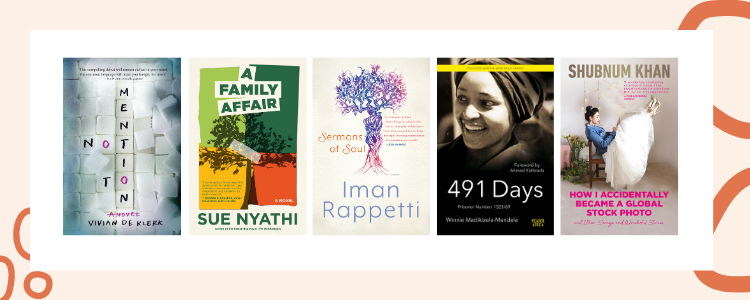 International Women's Day is a global day celebrating the social, economic, cultural and political achievements of women. The day also marks a call to action for accelerating gender parity. International Women's Day has occurred for well over a century with the first gathering held in 1911. Learn more about the day's timeline. The campaign theme for International Women's Day 2021 is #ChooseToChallenge.
Marked annually on March 8th, International Women's Day (IWD) is one of the most important days of the year to:
celebrate women's achievements
raise awareness about women's equality
lobby for accelerated gender parity and 
fundraise for female-focused charities
To mark #IWD2021, we celebrate some incredible female writers you should be reading.
Dr Tlaleng Mofokeng
The indomitable Dr Tlaleng Mofokeng – affectionately known as Dr T – is passionate about making sexual health and well-being services available to all, regardless of their sexual and gender identities and their economic status. Dr T is the United Nations Special Rapporteur on the right of everyone to the enjoyment of the highest attainable standard of physical and mental health, a medical doctor at DISA Clinic in Johannesburg, with a focus on sexual and reproductive health and rights, as well as a senior lecturer and a broadcaster. Her book, Dr T: A Guide to Sexual Health and Pleasure is filled with the specifics of sexual anatomy and health as well as advice and facts about pleasure and sexual rights, and includes a section on coercive control as well as sex and pleasure during the time of COVID-19.

Mandy Wiener
Mandy Wiener is one of the country's best known and most credible journalists and authors. She specialises in investigative reporting and legal matters, having extensively covered both the corruption trial of former national police commissioner Jackie Selebi and the Brett Kebble murder trial. She has also earned a reputation for her work exposing South Africa's 'Underworld' reporting extensively on Czech fugitive Radovan Krejcir, Teazers boss Lolly Jackson and other mysterious figures. Wiener has worked as a multi-award-winning reporter since 2004. The Whistleblowers is her fifth book, following on from Ministry of Crime: An Underworld Explored; Behind the Door: The Oscar Pistorius and Reeva Steenkamp Story, with Barry Bateman; My Second Initiation: A Memoir, with Vusi Pikoli, former head of the National Prosecuting Authority; and the groundbreaking Killing Kebble: An Underworld Exposed. Released in 2020, The Whistleblowers shines a light on the plight of whistleblowers advocating for a change in legislation, organisational support and social attitudes in order to embolden more potential whistleblowers to have the courage to speak out. 

Angela Makholwa
A South African author born and raised in the East Rand township of Tembisa. Angela worked as a journalist, reporting mostly on crime in the 1990's. She is the much-loved author of gripping psychological thrillers. Her novels – Red Ink, The 30th Candle, Black Widow Society, and the internationally acclaimed The Blessed Girl – are filled with entertaining escapades and sexual misadventures of modern women. Angela has gained critical and popular acclaim for her contribution to African literature and has been nominated for several awards. The crime and women's fiction writer has been invited to speak at a number of local and international literary events and is committed to the advancement of literature on the African continent. Her recent novel Critical But, Stable was released in 2020 and explores the complicated lives of high-flying married couples and how they navigate their relationships, success and affluent lifestyles.

Shubnum Khan
Shubnum is a South African author and artist. Her first novel, Onion Tears, was shortlisted for the Penguin Prize for African Writing and the University of Johannesburg Debut Prize for Writing in English. She holds a Master's degree in English and has been selected for a number of literary fellowships, including the Octavia Butler Fellow at Jack Jones Literary Arts and as a Mellon Fellow at Stellenbosch University. When she's not travelling, Shubnum lives in Durban writing and drawing for a living. How I Accidentally Became a Global Stock Photo and Other Strange and Wonderful Stories is part memoir, part travelogue and part love letter. She takes the reader on a journey around the world. Whether it is teaching children in a remote village in the Himalayas, attending a writers' residency where the movie The Blair Witch Project was shot, getting pulled out of the ocean in Turkey or becoming a bride on a rooftop in Shanghai, Shubnum is quirky, moving and vulnerable in what she shares. Releasing in April, the book is about holding onto hope and a reminder that once 'you step off the edge, anything can happen'.

Nolitha Fakude
Born in Cenyu a small village in the Eastern Cape outside Stutterheim, Nolitha Fakude grew up as a shopkeeper's daughter. She worked her way up from the shopfloor as a Graduate Trainee at Woolworths to become one of South Africa's most respected and successful black business women. Nolitha is a humble leader who is widely respected as a pioneer who was at the forefront of transformation strategy, both within the companies she worked for and as a leader at the Black Management Forum where she worked with business, government and unions to drive change in South Africa. Nolitha currently serves as Group Director, South Africa for Anglo American. Over a career spanning 29 years, Nolitha spearheaded programmes that ensure the development of women and marginalised communities in the workplace and society. A passionate advocate for diversity and inclusion, she has earned a well-deserved reputation as a corporate activist.

Professor Vivian de Klerk
 Vivian de Klerk is Professor Emeritus of Linguistics at Rhodes University, where she devoted 30 years to teaching and research before becoming dean of students in 2008. She received the vice chancellor's Senior Distinguished Research Medal and, in 2019, was the recipient of the Kraak Writing Grant. Her first novel, Not to Mention is part diary, part memoir, part love-hate letter to the mother who fuelled her daughter's addiction as steadily as the world ostracised her. The destructive power of shame and society's harsh judgement of people who are 'different' is matched by the immense courage of a young woman who is determined to be heard.

Sue Nyathi 
Sue was born and raised in Bulawayo and lives in Johannesburg with her young son. She relocated to Johannesburg in 2008 which is the same time when the characters in her second bestselling novel, The GoldDiggers embarked on the journey to South Africa. Her move here precipitated in Sue pursuing the idea to get published more vigorously because there was a more vibrant literary and publishing industry in South Africa. Her debut novel, The Polygamist was published in 2012 marking the beginning of her journey as a published writer. Her latest offering, A Family Affair is a big dramatic novel centred around a family, the Mafus, and following the lives of their three daughters, Xoliswa, Yandisa and Zandile.

Iman Rappetti 
Iman tries to see the stories that lie untold within people – beyond their faces, behind their eyes, inside their experiences – but are necessary for individual and collective catharsis. She is struck by the need for warmth, for love, for understanding, for conversation in our society and has sought, in her work, to help people find those things. She left the safety of her TV and radio shows to focus on ways to use her experience and network to help dismantle misunderstanding and promote cooperation. Iman is an award-winning broadcaster, mother, leader, lover, and the founder of strategic communications firm RappettiCom. She is committed to her personal cause of living more consciously and intentionally. Her second book, Sermons of Soul brings you the best-loved opening segments from Iman Rappetti's award-winning radio show, POWER Talk. With each daily sermon, Iman sought to reach out to her listeners and give them something special before the day's tough subjects unfolded on the programme. She wanted to create a moment for them to feel appreciated, thought of, challenged or cared for.

The late Mam' Winnie Madikizela-Mandela's 491 Days
 491 Days: Prisoner number 1323/69 shares with the world Mam' Winnie Mandela's moving and compelling journal as well as some of the letters written between affected parties at the time. Readers gain insight into the brutality she experienced, her depths of despair as well as her resilience and defiance under extreme pressure. This book was co-edited by Swati Dlamini and Sahm Venter with the support of the Nelson Mandela Foundation.