Introducing some of Pan's new authors for 2021
Meet some of the new Pan Macmillan South Africa authors who we are proud to publish in 2021.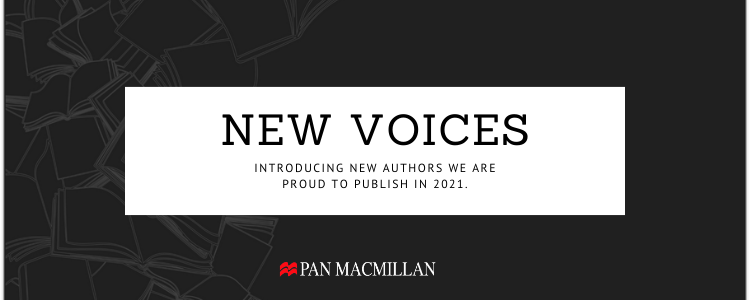 Meet some of the new Pan Macmillan South Africa authors who we are proud to publish this year. Here, Kojo Baffoe, Shubnum Khan, Jeremy Maggs and Lesedi Molefi share about their writing process and progress, and what readers can expect from their books.
Kojo Baffoe

Kojo is a writer, speaker and content strategist amongst other things. Many of you will recognise him as the former editor of Destiny Man magazine and the former host of 'Life with Kojo Baffoe' on Kaya FM.  Born in Germany to Ghanaian and German parents, Kojo grew up in Lesotho and has lived and worked in South Africa for the last 20 years.
He has a BCom with majors in Economics, Marketing and Business Administration. While writing for various publications throughout his career, he has also worked and run businesses in a range of sectors such as IT, fashion, events and entertainment. Kojo is a Board member of BusinessArts South Africa, a sought-after facilitator and host. He has consulted for and worked with a diverse range of companies, including the South Africa Post Office and an actor's agency. Naturally curious, Kojo lives a fluid, 'portfolio' life in Johannesburg with his wife and two children.

Kojo on his new book:
My new book, Listen To Your Footsteps, is a collection of essays, thoughts and poems that are reflections on my journey to date and the lessons that I have learned, and continue to learn along the way. Who I am today was heavily shaped by my father, who raised me, by my steps and missteps in work, relationships and life, and by my children.
I consider myself a contemporary African man but grapple constantly with what that really means. I am a work-in-progress, as we all are, and I try to do the work daily. The reality of the world we live in can be harsh, but I truly believe there is a way to build a life that you can be proud of, a life that means something, a life of legacy, and this is what I engage with and reflect on regularly. 
I try to keep the fears and doubts at bay. I try to be better every day. I try to live consciously. In this book, I will try to share this, honestly and openly, in the hope that others may find the wisdom in my mistakes, my flaws, my experiences.
You can follow Kojo on social media on the following platforms:
Twitter | Facebook | Instagram | LinkedIn

Shubnum Khan

Shubnum is a South African author and artist. Her first novel, Onion Tears, was shortlisted for the Penguin Prize for African Writing and the University of Johannesburg Debut Prize for Writing in English. In 2018 she was selected as the Octavia Butler Fellow at Jack Jones Literary Arts and she was shortlisted for the Miles Moreland Scholarship for African Writers. In 2019 she was selected as a Mellon Fellow at Stellenbosch University. Her articles have been published in Huffington Post SA, The Sunday Times, O magazine and her fiction has been published in New Contrast, Saraba magazine and Timothy McSweeney's Quarterly Concern.

Shubnum on her new book:
How I Accidentally Became a Global Stock Photo and Other Strange and Wonderful Stories is a quirky memoir about a girl who grows up in a small Indian community in South Africa and goes on to have strange and wonderful experiences in the world. As the last born of four daughters in a community that adores sons, Shubnum was supposed to be a tragedy but instead she grew up in a house filled with girls who taught her everything about sisterhood. She lived on library books that were filled with brave women, snowy mountains, enchanted forests, dusty attics and Siberian steppes that left her longing for adventure. The book is about her crazy journey to find herself despite not meeting expectations and facing various obstacles along the way. Determined to carve her own path she has some wild adventures: she teaches in a remote Himalayan village, gets trapped in Delhi after an earthquake, fights off a djinn in New York, lives in a century-old hotel in China, is haunted by a tokoloshe in New Mexico, becomes a bride on a rooftop in Shanghai, gets invited on a mysterious luxury trip on the Mediterranean coast, endures interrogation at the Canadian embassy, gets towed off the top of a mountain in eastern Turkey, escapes to Seoul on a secret mission and becomes a front page story on CNN and BBC when she becomes an accidental global stock photo.
These stories are not only laugh-out-loud funny and shocking but they also offer an introspective reflection on what it means to be a woman, particularly a single Muslim woman trying to find herself in a modern world. The stories, both big and small, are interspersed with reflections of culture, religion and musings on relationships and love while meandering different cities.
This is a book about a girl with strange stories but it is also a book about holding onto hope. It is a reminder that once 'you step off the edge, anything can happen'.

Tell us about your process and progress:
It's going good; working on this has made me realise how far I've come. Ten years ago, my confidence was low, I was unable to travel by myself, I was heartbroken and I was disappointing people who wanted me to get married and have children. I felt under incredible pressure to conform to what was expected of me and also, I had my own pressure for not being able to pursue the things I wanted. As I've been writing I've realised how far I've come, not only with my experiences but also emotionally and the fact that I get to share it with others is both daunting and liberating. When you write about your life you get to look at it with retrospect, which is an amazing lens because it pulls out patterns and truths you wouldn't see before. Putting all these stories together has in a way allowed me to connect the pieces of my life together.
You can follow Shubnum and see some of her beautiful illustrations on these social media platforms:
Twitter | Instagram
Jeremy Maggs
Jeremy is a television and radio presenter who has been in the business for over 30 years. Currently he is the host of eNCA's weekday lunchtime television news programme. He also hosts 'Maggs on Media', a programme with an emphasis on journalism and brand communication. Jeremy acted as editor-in-chief of eNCA for 12 months in 2019 before stepping down in early 2020. Prior to that he was the editor of Radio 702's Eyewitness News for 8 years.
Jeremy writes for the Financial Mail on the advertising industry and edits the publication's annual review AdFocus. He has worked for 702, SAfm and Power 98.7 where his programme 'The Power Update' won best current affairs programme at the Liberty Radio Awards. In the same year he was also inducted into the SA Radio Hall of Fame. He presented the award-winning television quiz show 'Who Wants to be a Millionaire' and is the author of a bestselling book, Win! Compelling Conversations with 20 Successful South Africans. Maggs also runs a successful media strategy and coaching business. He lives in Johannesburg where he can be seen squeezing into his 1964 British racing green Mini or walking his recalcitrant Basset Hound, Jameson.

On his new book:
I've been unbelievably lucky to have had a front-row seat to most major news events in the run-up to and during the birth of South Africa's democracy. I frantically wrote radio copy when Nelson Mandela walked to freedom and was on air on television for ten straight hours when he died. I've interviewed every post-democracy president and have held hands with Archbishop Desmond Tutu during a memorable radio interview where I felt electricity course through my body and when I asked him what it was, he simply replied with his trademark cackle. I have also worked with some of the country's greatest journalists and was around as the craft morphed into the social media hydra that it now is. I've had and continue to enjoy a wonderful professional life that is filled with fascinating people, and unexpected events that continue to this day. This book is an eclectic meander through my career, but with what I also hope are relevant observations about where the South African media finds itself right now.

Tell us about your process and progress:
They say in broadcasting you need two key traits, a good voice and a big ego. I certainly have the latter. I start the book with my father's plea to choose a safe career like banking and end with my two-year sabbatical from journalism when I hosted the hit quiz show Who Wants to be a Millionaire. I've discovered that in spite of my worst fears my recollection of events that shaped my life is clear as are many conversations. Throughout the process I keep reminding myself not to be that curmudgeonly old silverback who knows better and always thinks of how much better things were. Quite the opposite in fact. I am open about my failings as a journalist and editor and there have been many. This book is also not a scandal-filled tell-all, but I hope an amusing and, in many cases, a light-hearted look back at a career that has been shaped by outstanding people and aided by a lot of luck. But also a look at where journalism is heading at a time when the business model for so many platforms is dead.
Follow Jeremy on:
Twitter | Instagram
Lesedi Molefi

Lesedi is a Soweto-born writer, documentary filmmaker, photographer and entrepreneur. In 2018, Molefi's literary debut Patient 12A was shortlisted for the prestigious City Press Tafelberg Non-Fiction Award.
Lesedi is the director and co-writer of Reconnecting Pangaea (2020) – a documentary that examines the impact of social media on South African life – for free-to-air channel eTV. He has also served as a writer and researcher for numerous broadcast documentaries, notably Lebogang Rasethaba's popular MTV project The People vs The People (2019), and award-winning documentary filmmaker Sifiso Khanyile's A New Country (2020). He lives and works in Johannesburg.

On his new book:
In November 2016, I bunked work to admit myself to a psychiatric hospital. On arrival, I was determined to stay for only ten of the 21-day rehabilitation programme, but instead, I only walked out a few days before Christmas. I didn't know what to say when a fellow patient asked, 'So, what are you in for?' and I began writing in order to explain myself to myself. 'Depression and anxiety,' is the answer, but a search for new ways to confront old anxieties is the story. I wrote most of Patient 12A in a caged, cigarette-stained courtyard at the clinic, where I met kindred spirits fighting similar battles. The tools we learned in psychotherapy were either far more useful than intended by the therapists or entirely misused. I don't know which it is, but it lent a sharp edge to patients' social observations and self-scrutiny. It gave me a new lens through which I could examine a peripatetic, often chaotic childhood, in a country that has always felt foreign. I don't yet know whether Patient 12A is a first-person account of my experiences inside the clinic or the experiences outside of it that led me there.

Tell us about your progress and process:
Some parts are easier to write than others but writing about my mom is particularly difficult. It's always surprising to meet myself and others on the page; me looking at a younger self looking out at the world. When writing from a place like that, you have nothing to protect. I didn't. My writing process is messy, unstructured and the pace varies from day-to-day. I suppose this mirrors the experiences I recount. I try to write until I recognise myself. It's interesting to talk to people I shared these experiences with. It's been cool to have honest conversations with family and friends, both near and far, about the stories I recount. Stories of living in the schizophrenia of post-apartheid South Africa, where the official version often contradicts our lived experience. It's funny to look back and think, 'Oh, we've been getting gaslit this whole time, cool'. Therapy helped me to work through those experiences. It's liberating in a lot of ways.
Writing is also a safe drug that helps to soothe my anxiety. It's not perfect, but it's my way of going about things. I will admit that writing about such a personal and intimate part of my life can feel like a bad trip, but ultimately, it's what the heart wants.
Lesedi is the shy elusive type but you can follow him quietly here:
Twitter | Instagram | Facebook