Jeremy Maggs' Final Answer!
"A pithy, insightful and often hilarious glimpse behind the scenes of modern newsrooms, as told by South Africa's best-known TV news anchor." - Sally Burdett, Anchor of SA Tonight, eNCA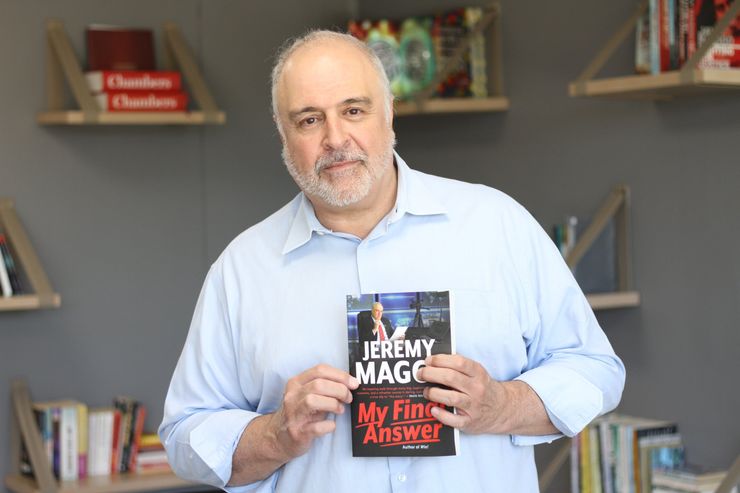 A much-admired media personality, Jeremy Maggs was editor of Radio 702's Eyewitness News for eight years and also served as editor-in-chief of eNCA. He hosted eNCA's weekday lunchtime television news programme and Maggs on Media. Jeremy continues to write for the Financial Mail and edits the publication's annual review AdFocus.
Written in an engaging and self-deprecating style, this book is an unexpectedly funny and candid, behind-the-scenes account of what was unfolding in those newsrooms as the stories broke, peppered with anecdotes around those involved in making those stories happen. Here's a short navigation guide and timeline that opens the Jeremy Maggs' memoir, My Final Answer.
I feel it's only fair to warn you that on occasion the timeline of this narrative jumps around a little. One minute you might be in the sunny South of France, the next minute back in South Africa. What tended to happen was that one recollection prompted another, and so down the rabbit hole we tumble – until I remember how we got there in the first place. And then we have to turn around and go back. If you think that's exhausting and confusing, imagine how I feel. So, let's begin with a handy timeline that should steer you off the side streets and back onto the highway of the story.
1961 – The South African rand replaces the pound; South Africa becomes a republic; Umkhonto we Sizwe is established; and Jeremy Maggs is born.
1966 – South African Prime Minister Hendrik Verwoerd is assassinated in parliament by Dimitri Tsafendas; he is replaced by another tyrant, John Vorster; and Jeremy Maggs starts primary school.
1968 – The Marylebone Cricket Club tour of South Africa is cancelled when South Africa refuses to accept the presence of South African-born Basil D'Oliveira in the English side; and Jeremy Maggs triumphantly wins the sack race at his first sports day.
1972 – Actor Burt Reynolds poses nude for the centrefold of the April edition of Cosmopolitan; and Jeremy Maggs wins a school prize for 'diligence and application' (the last time that will ever happen).
1974 – New Zealand imposes a blanket ban on sports teams from South Africa; Anneline Kriel is crowned Miss World; and Jeremy Maggs starts high school, where he will perform poorly at maths and fail to make either the first or second XI cricket teams.
1979 – Following the Information Scandal, John Vorster resigns as state president of South Africa; and Jeremy Maggs leaves for Chicago on a year-long student exchange programme, where he will meet a future president and start considering a career in radio.
1984 – Archbishop Desmond Tutu is awarded the Nobel Peace Prize; and Jeremy Maggs joins the Eastern Province Herald in Port Elizabeth, where he will get his first newspaper byline for what he thought was a Pulitzer Prize-winning story.
1986 – Pay television channel M-Net is launched; and Jeremy Maggs joins the Sunday Tribune newspaper in Durban, where he will pose nude for an art class.
1988 – Al-Qaeda is formed by Osama bin Laden; singer PJ Powers performs at a charity event in Zimbabwe with Miriam Makeba and Harry Belafonte, upsets the National Party government and is banned from radio and television for a year; and Jeremy Maggs joins Radio 702 and adjusts badly to waking at 2.30 am to write news bulletins.
1993 – FW de Klerk and Nelson Mandela are jointly awarded the Nobel Peace Prize; the interim South African Constitution is approved by parliament; and Jeremy Maggs leaves journalism for what he thinks will be the wonderful, highly lucrative world of public relations (he lasts about 11 months before returning to radio).
1999 – Thabo Mbeki becomes the second democratic president of South Africa; South African Cathy O'Dowd becomes the first woman to summit Mount Everest from both the north and south sides; and Jeremy Maggs becomes the co-lead presenter of am2day, a three-hour television breakfast show on SABC 2 (that will flame out after a year).
2000 – Nicky Boje, Hansie Cronje and Herschelle Gibbs, along with other international cricket players and Indian bookmakers, are accused by the New Delhi police of cheating, fraud and criminal conspiracy in alleged match-fixing; and Jeremy Maggs becomes the presenter of the hit television show Who Wants to be a Millionaire, and learns that the phrase 'My Final Answer' will follow him all his life.
2008 – The ANC recalls President Thabo Mbeki; and Jeremy Maggs, along with Redi Tlhabi, launches News Night and the new 24-hour news channel eNews Channel Africa, later to become eNCA.
2020 – COVID-19 cuts a swathe of destruction and death across the world; and Jeremy Maggs still finds himself behind the television news camera, albeit with less hair.
And so, as we begin our trip through media land, let's start with a short story about a pilot.
Get your copy of My Final Answer to read the short story about a pilot and more of Jeremy Maggs' candid anecdotes. Below, Jeremy introduces the book and answers a few questions.