Not to Mention: In conversation with Vivian de Klerk
"Utterly compulsive. De Klerk delivers a slow drip of a story that is both beautiful and monstrous. I've never read anything like it." – Michele Magwood, literary critic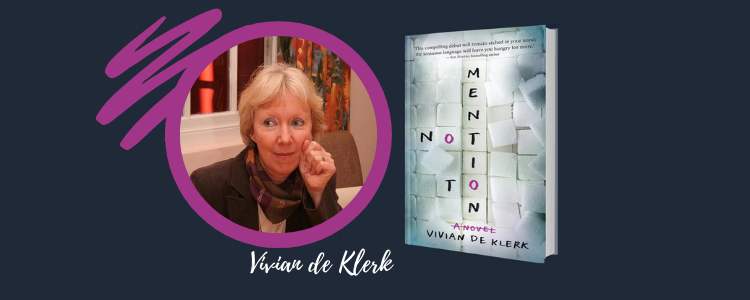 Not to Mention is Vivian de Klerk's debut novel. Part diary, part memoir, part love-hate letter to a mother who fuelled her daughter's addiction, it's a book that unpacks the destructive power of shame and society's harsh judgement of people who are 'different' matched by the immense courage of a young woman named Katy Ferreira who is determined to be heard.
Not to Mention explores, in minute detail, the physical realities of obesity. How did you research this book?
I did some general reading on the psychological and physiological characteristics of obesity, using journals and books from the Rhodes University Library and l read a few novels on the subject ("Heft" by Liz Moore, "She's Come Undone" by Wally Lamb – both remarkable). I constantly mined the internet for further details, especially regarding diabetes, and I went through some of the 1980 issues of the Herald (held in the Cory Library), drawing on various reports and articles that Katy Ferreira would have been reading at the time.
Debut novels are often autobiographical. Do you see yourself in the characters?
There will always be a trace of the author in what she writes. One can only write authentically by drawing on what one knows: from personal experience, from observations and of course from reading. I was a chubby little girl and teenager – never what you would call fat, but unfashionably heavy – and I remember the unkind remarks, and feeling out of place in the company of my bikini-clad friends. I didn't like the feeling, and that was when I started watching my weight. I've never stopped.
Did you find that writing about such dark subject matter affected your psyche negatively?
Not at all. In fact I found the experience very cathartic. My aim was to create a very likeable character in Katy Ferreira, so that the reader would feel empathy and compassion for her, and would get a glimpse into the world from her perspective. I tried to balance her reality by dwelling on some wonderful foody moments, some ordinary memories and her meticulous observations of day-to-day life in and around her bedroom. 
How did the rise in obesity (and other) eating disorders inspire your book?
This is a pressing social issue and society in general is not kind to overweight people, who are often mocked, ostracised and called names. They often find themselves excluded from normal life, derided and looked upon with disgust. The shame surrounding obesity probably has caused untold suffering repeatedly over the ages - as it did for Katy - and I wanted to depict the awful tragedy of a young girl's undeserved humiliation because of her own body. In a way, obesity is just a metaphor for a more universal problem: the 'othering' of all those who live their lives on the edges of society, out of place in the world because they do not look the same as most, do not speak the same language, or do not 'fit in' conveniently.
What does Katy's voice bring to the conversation?
Katy Ferreira's diaries offer a rare and tragic voice which speaks out about her suffering in secret and in silence, against the backdrop of a society that would rather not know about such details. To silence her voice would be a pity. I believe the novel is both empathetic and sympathetic to people suffering from the social and medical side-effects of being fat.
As Katy's voice develops during the year of her diary-writing, so she becomes increasingly articulate and analytical, and more and more strident and angry. Occasionally her emotions get the better of her as she thinks back over her experiences, and for a while she crosses out her (cross) words to avoid offence. But later comes a stage when she loses her inhibitions, stops deleting and says it like it is.
Why the crosswords?
The clues are a literary device of a sort. The blocks of the crossword grid echo the four square walls of Katy's bedroom, the square blocks of her parquet floor, and the square window panes which define her narrow outlook on the world. The cryptic clues are all about hidden meanings and ambiguities - answers to problems are never clear straight away, causing a bit of speculation for a while. And that's what Katy Ferreira wants her mother to do. The nice thing about cryptic puzzles is the certainty of their logic: everything does eventually fall into place, so you can make absolutely sure that you are right.
Katy, despite her devastating circumstances and obvious abuse and neglect, never speaks as a victim. Why is that?
Katy is initially careful not to offend her mother – her enabler and her only link to the outside world. She was, after all, complicit in the plan to stay at home for a while. So the diary starts off as an honest attempt to explain to her mother how she feels about  landing up stranded on her bed, as a way to pass the time. But as she writes about her virtual imprisonment, and she starts to realise that things might have been very different, her anger builds up against all the people who have been spiteful, against the medical staff who have maltreated her, against certain of her teachers, and most particularly against her mother. And this righteous anger and desire for vengeance gives her strength to continue to hope, and to speak out, before it is too late.
What (besides becoming a published author) did you hope to achieve with this book?
I have spent my career as an academic publishing specialist articles in Linguistics Journals (being precise and pedantic), and I needed a change. So I took early retirement in order to indulge myself and write for the sheer enjoyment of it. It has been an absolute joy being able to make stuff up, without quoting six or seven sources, and to pick a name for a character out of the blue and come to love her as much as I did Katy.
What are you working on next?
My most exciting work right now is what might be described as a dark thriller – it seems I'm rather drawn to the less cheerful aspects of life. It's set in a small fictional town called Qonda, in the Eastern Cape, and once again it's written in the first person, but this time the narrator is not particularly pleasant – in fact she's a self-confessed sociopath, living at number 9 Serpent Crescent. And she's a little too interested in the other people who also live in the Crescent…
Out now online and in stores, watch the book trailer below
Vivian de Klerk is Professor Emeritus of Linguistics at Rhodes University, where she devoted 30 years to teaching and research before becoming dean of students in 2008. She received the vice chancellor's Senior Distinguished Research Medal and, in 2019, was the recipient of the Kraak Writing Grant. Not to Mention is her first novel.
Twitter @ViviandeKlerk | Facebook Vivian de Klerk Writer