Pan Macmillan SA Competition Ts & Cs
Ts & Cs are not the most exciting kind of writing for us here, but it is important that they are listed and available for those who enter into our competitions. Read them here below: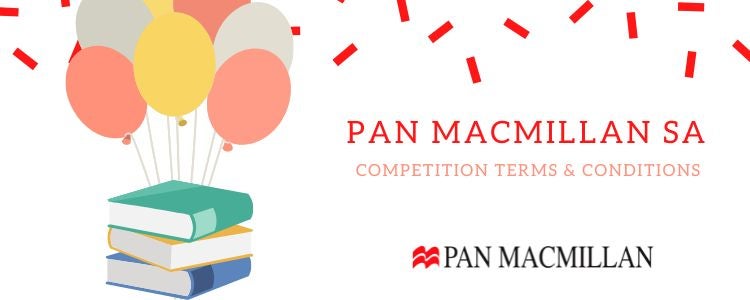 PAN MACMILLAN COMPETITION RULES
This Promotional Competition (Danielle Steel hamper giveaway) is organised by Pan Macmillan SA (Pty) Ltd ("Promoter")
The Competition is open to permanent residents and citizens of South Africa over the age of 18 (eighteen) years ("Participant/s") except any employee, director, member, partner, agent or consultant to the Promoter or a supplier of goods or services in connection with the Competition ("Disqualified Persons").
By entering this Competition, all Participants and winner/s agree to be bound by these rules which will be interpreted by the Promoter, whose decision regarding any dispute will be final and binding. The Promoter reserves the right to amend, modify, change, postpone, suspend or cancel this Competition and any prizes (which have not yet been subject to a draw), or any aspect thereof, without notice at any time, for any reason which the Promoter reasonably deems necessary.
This Competition commences on Thursday, the 9th of June 2022 and ends on Thursday, 23rd of June 2022, both days inclusive. The winner will be notified they have won the hamper on Thursday, 30th June via social media.
Participants stand a chance to win a hamper of 14 Danielle Steel books.
Entry 
To stand a chance to win this prize, participants must like the post and comment the name of at least one title of the Danielle Steel titles that have been published by Pan Macmillan SA. 
Participants, whose entry has been drawn and has been confirmed as valid after the verification process, will be notified via social media.
Participants may enter the Competition as many times as they wish, provided they follow the entry mechanics set out in paragraph 6. However, Participants are only eligible for 1 (one) prize under this Competition.
Participants may not enter this Competition or be a winner if they have won a competition promoted by the Promoter within the past 6 (six) months.
Entries which are unclear, illegible, are submitted via an incorrect entry mechanism or contain errors or are from Disqualified Persons will be declared invalid.
If the Promoter is unable to reach any Participant or complete the verification process after drawing an entry, such Participant will be disqualified and the draw of a replacement entry shall take place in the same manner as the first draw.
The prize is neither transferable nor redeemable for cash and the Promoter is not liable for any defect in the prize. The Promoter reserves the right to substitute prizes with any other prize of comparable commercial value.
Should any dispute arise in relation to the interpretation of these Competition rules, the Promoter's decision shall be final, and no correspondence shall be entered into.
All Participants and the winner, as the case may be, indemnify the Promoter, their advertising agencies, advisers, nominated agents, its affiliates and/or associated companies against any and all claims of any nature whatsoever arising out of and/or from their participation in any way howsoever in this Competition (including, as a result of any act or omission, whether as a result of negligence, misrepresentation, misconduct or otherwise on the part of the Promoter and/or use of the prizes).
In administering this Competition, the Promoter may collect personal information from Participants. The Promoter:
will not collect more of Participants personal information than it needs for the purpose of administering this Competition and carrying out publicity as stated in these rules;
will only use Participant personal information for that purpose which may include transferring your personal information to its associates and service providers; and
may transfer Participant personal information outside South Africa.  
Selected partners of the Promoter may require Participants to provide personal information in connection with claiming/redeeming prizes and Participants must satisfy themselves with the privacy policies of such partners, as the Promoter does not accept any responsibility for them
The Promoter may require the winners to complete and submit an information disclosure agreement and indemnification to enable the Promoter to ensure compliance with these rules and the Consumer Protection Act 68 of 2008. Should any winner refuse or be unable to comply with this rule for any reason, such winner will be deemed to have rejected the prizes and it shall revert back to the Promoter.
The Promoter may require the winners to be identified, photographed and the photographs published in printed media, or to appear on radio and television, when accepting their prizes and/or after having received their prizes. The winners will be given the opportunity to decline to the publication of their images and to participate in the Promoter's marketing material in so far as it relates to the Competition.
By participating in the Competition, all Participants agree to abide by, consent to and be bound by these terms and conditions and the decisions made by the Promoter and its prize sponsors for the Competition.
All queries in connection with this Competition should be directed to: tazmin@panmacmillan.co.za.
Promoter:       Pan Macmillan SA (Pty) Ltd
One-on-Jameson Building,
1 Jameson Ave (c/o Glenhove Rd),
Melrose Estate, Johannesburg, 2196
---END