Priddy Books & Pan Macmillan donate 12,000 books!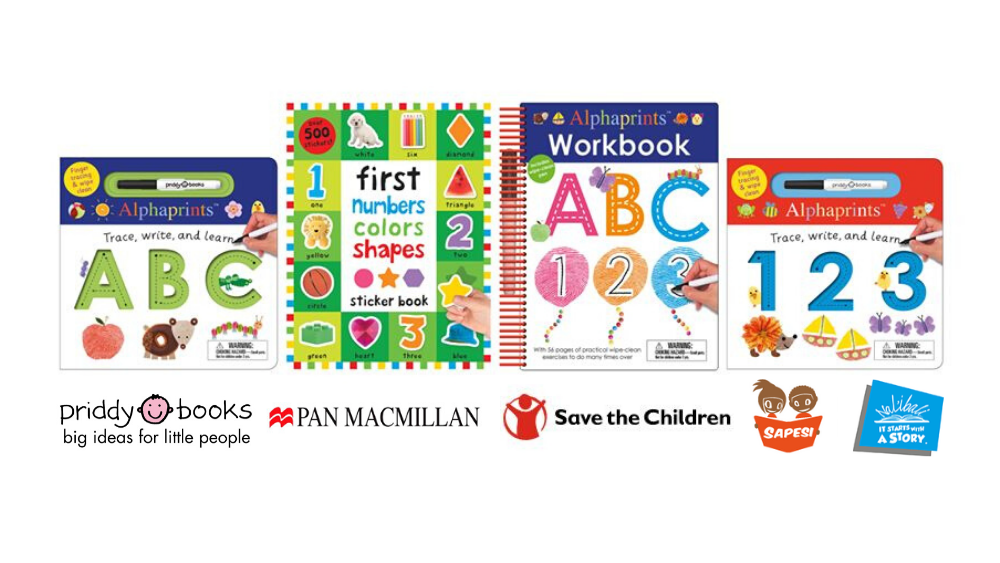 Pan Macmillan South Africa and Priddy Books are delighted to announce a donation of over 12 000 books to various literacy organizations in South Africa this December. The aim of this initiative is to give children and their parents access to fun, educational, age appropriate books published in multiple South African languages. The founder of Priddy Books, Rodger Priddy, will be handing over books to representatives.
According to Roger Priddy, "Books are a wonderful way of getting parents and their children to sit and spend time together, and they help to develop a child's vocabulary and understanding of the world around them."
Terry Morris, Managing Director of Pan Macmillan South Africa says they have been working closely with Roger Priddy over the past few years to explore how they can contribute to building a reading culture in South Africa and ensure they assist the wonderful work of various organizations promoting literacy by increasing access to suitable books and reading materials. This is certainly an initiative they hope to build on over the next few years.
Details of the handovers are as follows:
Save The Children
10h00, Wednesday, 4 December at Hlayisanani Early Childhood Development Centre in Alexandra Johannesburg
Sapesi Mobile Library Project in partnership with the Department of Basic Education
14h00, Thursday 5 December at the Department of Basic Education, Sol Plaatjie House in Pretoria
Nal'ibali Reading Clubs
10h30, Friday 6 December at Boitumelo Early Childhood Development Centre in Soweto
----
About Priddy Books
Priddy Books, founded in 2000, publishes a wide range of early learning books, all designed to play an essential role in helping children develop. Based in London, Priddy Books follows a very simple business plan – to make beautifully designed books to spark children's creativity, and encourage their development and awareness of the world around them.
About Save the Children
Save the Children believes every child deserves a future. In South Africa and around the world, we work every day to give children a healthy start in life, the opportunity to learn and protection from harm. Save the Children has identified and supported over 75 ECD centres across South Africa and works closely with other literacy initiatives to train teachers and parents in the value of reading and literacy for early learning.
About SAPESI Mobile Library Project and Department of Basic Education
SAPESI (South African Primary Education Support Initiative) is a section 21 company established in 2006 by business executives from both South Africa and Japan, to help improve the quality of primary education, specifically literacy, in South Africa. In 2008 a sister NGO, SAPESI Japan, was formed in Tokyo to raise funds in Japan for the sourcing and exportation of second-hand Mobile Library buses to South Africa. SAPESI had partnered with the Department of Basic Education to provide mobile library services to Provincial Education Departments with 49 Mobile Library buses in the nine provinces, serving 830 primary schools.
About Nal'ibali
Nal'ibali (isiXhosa for "here's the story") is a national reading-for-enjoyment campaign. It seeks to spark and embed a culture of reading across South Africa, so that reading, writing, and sharing stories – in all South African languages – is part of everyday life.
For more information about the Nal'ibali campaign, to sign up to be a FUNda Leader and join the FUNda Sonke loyalty programme, or to access children's stories in a range of South African languages, visit www.nalibali.org and www.nalibali.mobi. You can also find Nal'ibali on Facebook and Twitter: nalibaliSA.
For all media enquiries please contact: Magdaleen Snyman, Children's Publicist
childrensbooks@panmacmillan.co.za