Pulitzer Prize winner, Cormac McCarthy is back
One of America's greatest living writers, now eighty-eight, returns with a book – a pair of books, together a masterpiece – a decade in the making.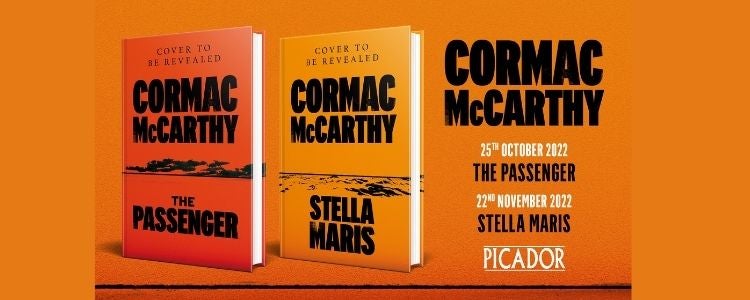 Picador are thrilled to announce that two new novels from Cormac McCarthy, The Passenger and Stella Maris, will be published in October and November 2022.
This Spring Picador will publish two new novels by Cormac McCarthy.
The Passenger, the first of the two novels, will be published on October 25. Stella Maris, the second book, will be published on November 22nd . A box set of both volumes will be published on December 6th. The novels, set eight years apart, tell one grand story of siblings Bobby and Alicia Western.
''Picador is delighted to be publishing new novels this year from one of America's most important living writers. Picador has been McCarthy's proud British publisher for decades, and longed for the arrival of these next two novels. Every lover of Cormac McCarthy's prose will thrill to them, as they explore landscapes and characters and questions and relationships that we have never encountered in his work before. Bobby and Alicia Western have to be two of the most captivating characters in contemporary American literature and it will be an enormous privilege to introduce them to Cormac McCarthy's legion of readers old and new this autumn.' '

Philip Gwyn Jones, Picador Publisher
About Passenger
This the story of a salvage diver, haunted by loss, afraid of the watery deep, pursued for a conspiracy beyond his understanding, and longing for a death he cannot reconcile with God. 1980, Pass Christian, Mississippi: It is three in the morning when Bobby Western zips the jacket of his wet-suit and plunges from the boat deck into darkness. His dive-light illuminates the sunken jet, nine bodies still buckled in their seats, hair floating, eyes devoid of speculation. Missing from the crash site are the pilot's flight-bag, the plane's black box, and the tenth passenger. But how? A collateral witness to machinations that can only bring him harm, Western is shadowed in body and spirit—by men with badges; by the ghost of his father (one of the inventors of the bomb that melted glass and flesh in Hiroshima); and by his sister, the love and ruin of his soul.
Traversing the American South, from the garrulous barrooms of New Orleans to an abandoned oil rig off the Florida coast, The Passenger is a breathtaking novel of morality and science, the legacy of sin, and the madness that is human consciousness.
About Stella Maris
Stella Maris an intimate portrait of grief and longing, as a young woman in a psychiatric facility seeks to understand her own existence. 1972, Black River Falls, Wisconsin: Alicia Western, twenty years old, with forty thousand dollars in a plastic bag, admits herself to the hospital. A doctoral candidate in mathematics at the University of Chicago, Alicia has been diagnosed with paranoid schizophrenia, and she does not want to talk about her brother Bobby. Instead, she contemplates the nature of madness, the human insistence on one common experience of the world; she recalls a childhood where, by the age of seven, her own grandmother feared for her; she surveys the intersection of physics and philosophy; and she introduces her cohorts, her chimeras, the hallucinations that only she can see. All the while, she grieves for Bobby, not quite dead, not quite hers. 
Told entirely through the transcripts of Alicia's psychiatric sessions, Stella Maris is a searching, rigorous, intellectually challenging coda to The Passenger a philosophical inquiry that questions our notions of God, truth, and existence.