Read an extract from The Soweto Uprisings
When the Soweto uprisings of June 1976 took place, Dr. Sifiso Mxolisi Ndlovu, the author of this book, was a 14-year-old pupil at Phefeni Junior Secondary School. With his classmates, he was among the active participants in the protest action against the use of Afrikaans as a medium of instruction.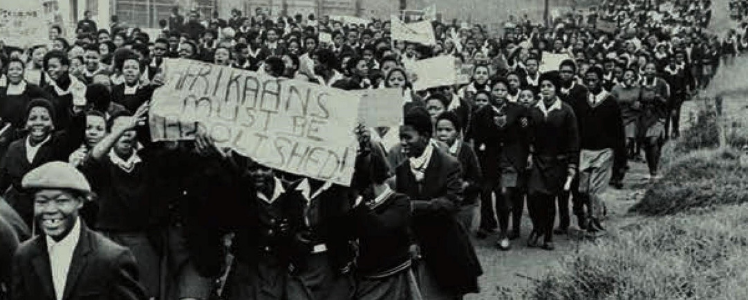 Contrary to the generally accepted views, both that the uprisings were 'spontaneous' and that there were bigger political players and student organisations behind the uprisings, Dr. Ndlovu's book shows that this was not the case. Using newspaper articles, interviews with former fellow pupils and through his own personal account, he provides us with a 'counter-memory' of the momentous events of that time.

16 June 1976 – a day that marked the brutal death of schoolchildren like Hector Pieterson, Hastings Ndlovu, and others – remain highly contested more than 40 years after the event. This is despite the availability of first-hand eyewitness accounts and archival materials stored at various depots, repositories, and research institutions around South Africa. On Wednesday, 16 June 1976, parents working in nearby Johannesburg and towns in the East and the West Rand were unaware of the events taking place in their community that would catapult consciousness of the liberation struggle across the globe. An estimated crowd of 10 000 students were gathering in Orlando West to protest against Bantu Education in general and, specifically, the imposition of Afrikaans as a medium of instruction in selected schools in Soweto. Township residents had long regarded education as a means of empowering their children, and as such, students' grievances were allied against apartheid and other racially based government policies. As a result, students, teachers, and parents, as members of a given society and also as agents of change, were at the forefront of protest and challenge during the uprisings

To understand the Soweto uprisings we need to contextualise the event within the political economy of South Africa during the 1970s. The Soweto uprisings were a turning point in our history. They exploded into a momentous event, leading to major repercussions that are still with us today. The uprisings reinvigorated the ailing ANC as well as the PAC, and led to the re-examination of the Black 65 eyewitness accounts and counter-memories Consciousness Movement. The uprisings aroused world abhorrence of apartheid's child killers and resulted in a dual response from the South African regime: Further ruthless repression, and ineffective reforms. The uprisings also left us with the insurmountable problem of the 'lost generation', the majority of whom are black. All this was triggered by the actions of a handful of schoolkids.

------------------------
Born in 1963, Hector Pieterson became the iconic image of the 1976 Soweto uprising in apartheid South Africa when a newspaper photograph by Sam Nzima - of the dying Hector being carried by a fellow student - was published around the world. Explore the story behind one of the most influential image that changed world HERE.