Reset, rebuild and reignite your business in a crisis economy
Crises mean change. And for any business owner, change means opportunity. In his new book, Reset Rebuild Reignite, Pavlo Phitidis has shared insights, tools and actions that he has consistently used and seen being used to turn crises into opportunities – not to survive but to thrive in the change that a crisis can bring.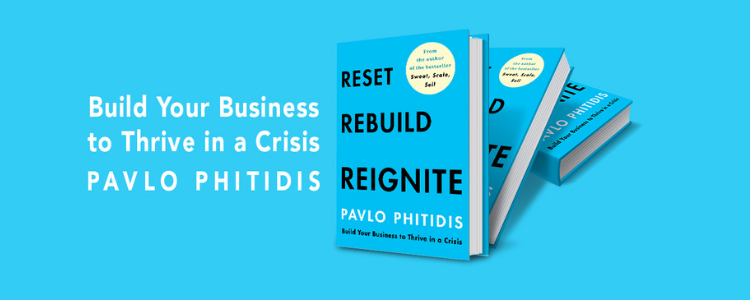 "There is nothing new about a crisis stalling or wiping out a business. The COVID-19 pandemic that has hit businesses globally does not feel any more or less devastating to the business owner than if their business was affected by the sudden loss of a dominant client, a trade war, burst water pipes halting operations, intransient employees or their product no longer being relevant to the market."
In Reset, Rebuild, Reignite, the second book from Pavlo Phitidis, his starting point is not how to avoid crises because some are inevitable. Instead, he shows how you can use any crisis to reset your business to get relevant, rebuild it to scale, and reignite it to accelerate growth by capitalising on the change and opportunities that any crisis brings with it. Read an extract from the introduction of Reset Rebuild Reignite and gain insights to help your business thrive in any crisis.

The one certainty is that nothing is certain
Crises have been around forever. In fact, as a business owner, you will always experience crises through the marathon of building a business. Their magnitude, shape and form, their duration and seriousness will vary widely. Developing both a right mind and right action to not only traverse them but also turn them into opportunities is something you must get right. If not, you will be worn out by the ongoing demands that building a business requires. A large part of success comes from being in the game and consistently presenting yourself and acting each and every day. I have long spoken about the killers of businesses. They are found in yourself rather than the outside world. I have actively watched for them in our clients and move fast to quash them when they appear. I have actively used them when acquiring businesses for our clients too. In all instances, the businesses I acquired for a dollar had the killers at work. They took the shape of fatigue and manifested in complacency, blame, comfort and a 'mañana' effect, where something that could and should be done today is rolled over to another day – and sometimes never done at all. Right mind and right action emerge over time as you get to know your business. More interestingly, they come from your purpose and positioning, something that I wrote about in worthy detail in my previous book, Sweat, Scale, $ell. Purpose is personal to you, positioning is personal to your customers and defines what makes you special and valuable from your customers' perspectives. Weak purpose and poor positioning brings on more crises and makes their resolution arduous. The opposite is true: clear purpose and well defined positioning allows crises to turn into opportunities and have an effect of advancing the business into its next evolution. The following story shows an example of such an opportunity. Crises originate from three sources. They can be perceived, self-imposed or imposed upon you.

All in it together
Crises that are universal and stretch beyond our personal circumstances, as well as our own businesses, feel fairer. Crises created by us and those imposed upon us feel profoundly personal. It makes them harder to deal with. I have thrown many pity parties for myself, wondering about the fate bestowed on me and why I, of the billions of people out there, or the millions of businesses out there, have had to suffer the fate of such a crisis. It is a wonderful drama to provide some form of psychological relief, but it is a wholly ineffective resolution to the crisis you may face, which can only be solved through direct action. Universal crises depersonalise the fate that we face in relation to our businesses' survival. For most of us, the two most-recent universal crises have been the 2008 credit crunch and the COVID-19 pandemic. Before and in-between, there have been many more crises. Depending on which country you live and work in, the position your political leadership takes and how that is managed and motivated has created multiple crises, which affect not only you but perhaps also your entire industry or sector and perhaps even the entire country's economy. Before COVID-19, the three levers reshaping and changing the world, in my perception, included impeding climate change, accelerating technological change and an increasing sense of unfairness. This sense of unfairness was driven by economic exclusion of the majority of the voting working class, who have turned to populist politics. We have seen it in the United States, the United Kingdom, throughout Europe, in most of Africa, Latin America and Southeast Asia, and it has taken the form of rising nationalism. It shall, too, create a series of crises for us all during the period in which we adjust to the COVID-19 pandemic, and certainly afterwards. The all-in-it-together crises feel better because they do not feel personal. While we might not feel extensively supported by the actions of politicians, we are at least encouraged by their words and promises as they seek to capitalise on the crises themselves with the view to provide relief and support in order to secure future votes. Personal crises, whether they be imposed or self-imposed are very personal, and any support promised outside of our domain of control is mostly severely lacking.

Crisis brings change and change means opportunity
As much as crises can threaten our well-being, ambitions, dreams and hopeful expectations, they provide a profound opportunity for personal and business advantage. The reason is simple. Crises mean change. For any business owner, change means opportunity. Your ability to see it and grasp it depends on why you do what you do. Again, I say this only if you have a clear answer to the question of why you do what you do and what you want from what you do. It sounds like such a trite statement, but when I ask business owners I meet what they want from their business, their thoughts and ideas seldom have a clear end in mind. This means, in many cases, the future is driven by poorly thoughtout destinations, evidenced in remarks such as, 'I want to double my turnover', 'I want to get new product', 'I want access to funding', 'I don't want chaotic operations', 'I want to spend more time creating or leading rather than just doing', 'I wish I could find the right people to do the right thing at the right time', and so the list goes on. Many business owners I speak to define the future in terms of solving current, immediate problems that they experience in the daily running of their businesses rather than having a vision and definition of what the business needs to be and where they need to be in five, ten, fifteen or twenty years from now. The extent to which the focus is in the present alone, and does not consider a clearly defined future, makes any crises you experience profoundly personal. And, in that moment, it makes it profoundly emotional. This makes managing a crisis far more challenging than it ought to be.

Covid-19 has wrought havoc on the global economy and forced many businesses to shutdown or to drastically alter their operating conditions. Things are not going to go back to 'business as usual' and hoping they will is not a strategy.
Watch the webinar below, Pavlo offers business owners a practical guide to how they can plan their strategy and lay the foundation to thrive in the new economy. The principles he shares will build a business that is resilient to change, and will stand up to future setbacks and crises.
Watch it to gain an understanding of:
A likely 18 month view of the economy post-lockdown
Adopting a winning mindset to cope with uncertainty and stress
Using the lockdown to rest your business
Using the 3 – 6 months after lockdown to rebuild your business
Using the 6 – 12 months after lockdown to accelerate growth
For more Corona Business Battle Plan webinars visit www.aurik.com/corona