Win a Krugerrand with Jeffrey Archer! Enter below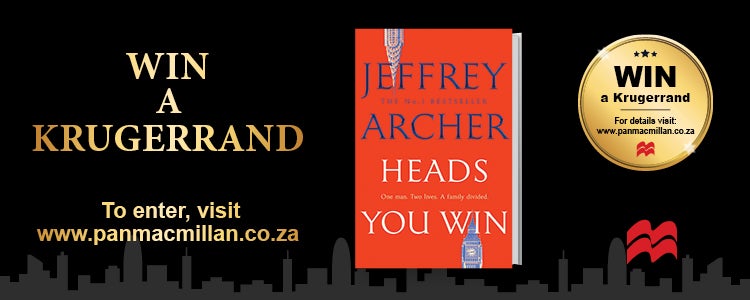 Want to win a Krugerrand with Jeffrey Archer's newest book, Heads You Win.
Heads You Win is the incredible and thrilling novel by the master storyteller and bestselling author of the Clifton Chronicles and Kane and Abel, Jeffrey Archer.
Alexander Karpenko is no ordinary child, and from an early age, it is clear he is destined to lead his countrymen. But when his father is assassinated by the KGB for defying the state, Alexander and his mother will have to escape from Russia if they hope to survive. At the docks, they are confronted with an irreversible choice: should they board a container ship bound for America, or Great Britain? Alexander leaves that choice to the toss of a coin...

How to enter:
1.) Purchase a copy of Heads You Win
2.) Visit our website
3.) Sign up for our adult's mailing list below (we'll keep you informed about great reads from time to time)
4.) Answer one easy question in the sign up form
5.) Confirm your subscription to our mailing list by clicking 'confirm' in a mail that will be sent to you after your form has been submitted. Remember to look out for this in both your inbox and spam folder. Without this subscription confirmation, your entry to the competition will be marked as incomplete.
6.) Please keep your receipt as proof of purchase to be entered into the draw
And you are done!
It's that easy! Please note that Ts and Cs apply. Competition runs from 5th November - December 31st 2018, entries close at midnight. To read up on our Ts and Cs click here: https://www.panmacmillan.co.za/information/pan-macmillan-sa-competition-terms-and-conditions
Winner to be announced on Pan Macmillan's SA's Social media platforms on Wednesday the 16th of January 2019 at 12 midday.
Where to enter:
What are you waiting for? Enter below via the following link:
https://www.panmacmillan.co.za/sign-up/heads-you-win-competition-entry
Terms and Conditions:
For competition details and guidelines see the Terms and Conditions here: https://www.panmacmillan.co.za/information/pan-macmillan-sa-competition-terms-and-conditions
You are welcome to unsubscribe from the Pan Macmillan SA mailing list once the competition has closed and the winner has been announced should you no longer wish to receive mailers.