Writing the little-told story of Onkgopotse Tiro
Parcel of Death recounts the little-told life story of Onkgopotse Abram Tiro, the first South African freedom fighter the apartheid regime pursued beyond the country's borders to assassinate with a parcel bomb.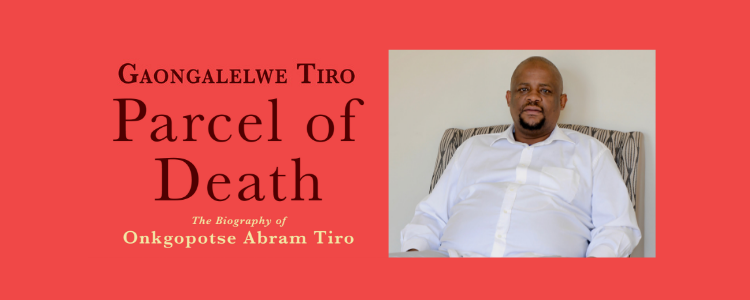 Gaongalelwe Tiro is a journalist of many years currently working in the communications field. He has worked for most mainstream media houses as a financial journalist and is a Wits Journalism master's alumnus. History, current affairs and political economy are the subjects he is most passionate about and he spends most of his time reading up on. Gaongalelwe loves his fiction as well, but only that with verisimilitude.

He chats to us about writing Parcel of Death, the compelling story of his uncle, Onkgopotse Abram Tiro and its lasting significance in South Africa's history.

How does it feel being part of Onkgopotse Abram Tiro's lineage and preserving his memory through writing this book?
I am personally proud of his contribution to fight against racial oppression of black people. He stood up to be counted during the darkest hour in the history of our country.  Being part of his lineage is somewhat burdensome because of the very high standard he set with his activism, selflessness and love for his people. I'm gratified that I have been able to chronicle his life not only to preserve his memory but to inspire others to emulate his example.

What does this book mean to you and the Tiro family?
It means a great deal to me and other members of the family that I have spoken to that finally an attempt has been made claim his place in the annals of South Africa history. His contribution, like those of others, at a great cost to himself and the family cannot and should not be ignored. It is not in monuments that we are interested in, but more in the popular narrative of the liberation struggle fairly reflecting the contribution of all without downplaying or talking up roles of different freedom fighters, generations or political traditions.

Onkgopotse Tiro lived a short but inspirational life, what would you like people (especially the youth) to take away from this book and Tiro's life?
To heed Frantz Fanon's injunction that: "Each generation must, out of relative obscurity, discover its mission, fulfill it, or betray it." Tiro and his generation discovered their mission, which the fulfilled with aplomb. They are the generation that taught our people that it was okay to be black, that black is beautiful when apartheid and colonialism that ingrained a deep sense inferiority among many.  They roused the oppressed to fight their liberation from the shackles of apartheid by making them realise that it was not the natural order of things. I hope to inspire young people to develop a social consciousness that Tiro and his generation exhibited. To inspire them to rise to the occasion, take charge of their destiny and realise, as Tiro said many years ago, ''that our so-called leaders have become the bolts of the same machine that is crushing us as a nation".

This is the first biography of Tiro - 45 years after his passing, what was the research process?
The research process largely entailed interviews with different individuals that knew and interacted with Onkgopotse Tiro during different phases of his life – the people he grew up with, went to school and church with. This was particularly important in writing about his earlier as there was no literature or archive material one could use. Media archives and other written sources helped a great deal with the latter part of his life when his activism had broken into the popular consciousness. The only real pity is that the authorities in both South Africa and Botswana where he died frustrated efforts to access the security files in their possession.

In the biography, you share exclusive interviews to highlight periods in Tiro's life, what are some of the interesting discoveries you made about your uncle?
I've always been familiar with the story of his life and upbringing, but by talking to a wider range of people I got understand him better. I got to understand his formative influences particularly how the collective psyche of the Bahurutshe emanating from the history of being conquered and dispossessed of their land found expression in his activism. This added a new dynamic to exposure capitalist exploitation as a child labourer on an opencast mine, the 1956 anti-pass laws episode, religion and the Black Consciousness philosophy as the drive of his social consciousness.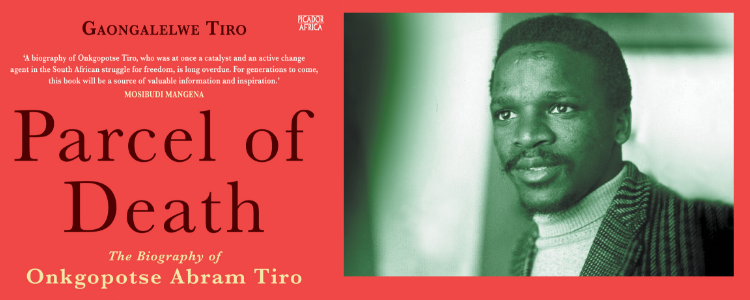 Praises for Parcel of Death
"A biography of Onkgopotse Tiro, who was at once a catalyst and an active change agent in the South African struggle for freedom, is long overdue. For generations to come, this book will be a source of valuable information and inspiration." – Mosibudi Mangena, author of Triumphs And Heartaches

"Parcel of Death is a riveting slice of South African historiography and biography. It gifts the story of Onkgopotse Tiro with the life it truly deserves." – Bongani Madondo, biographer and author of Sigh, the Beloved Country