Jessica Sepel's vegan eggplant and chickpea curry
In The 12-Step Mind-Body-Food Reset, Jessica shares her 12 key pieces of practical advice for overcoming disordered eating, achieving weight balance and creating good habits for life. Try the vegan eggplant and chickpea curry recipe.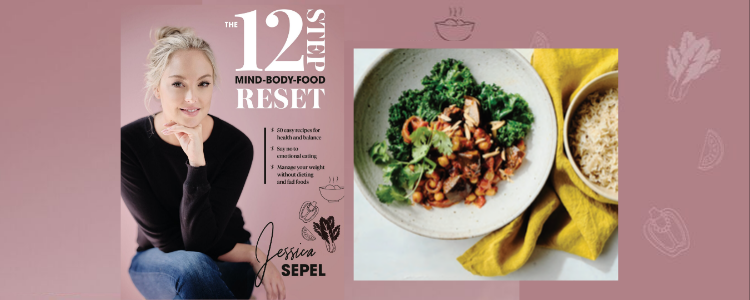 Total time

50

Prep time

15

Amount

4

Ingredients

2 tablespoons coconut oil
1 red onion
cut into thin wedges
1 eggplant (about 520 g)
cut into 3 cm cubes
1 tablespoon curry powder
1 x 400 g tin chickpeas
drained and rinsed well
1 x 400 g tin chopped tomatoes
2 large kale leaves
leaves torn
thick stems discarded
Small handful of coriander
Springs leaves picked
Cooked brown basmati rice
Quinoa or Garlic fried Vegetable 'rice' (page xxx) to serve
Toasted slivered almonds to serve
Heat the oil in a large, deep non-stick frying pan over high heat. Add the onion and eggplant and cook, stirring occasionally, for 5 minutes or until the onion has softened and the eggplant is golden.

Reduce the heat to medium-low and add the curry powder. Cook and stir for 30 seconds or until the mixture starts to smell fragrant. Add the chickpeas, tomatoes and 250 ml (1 cup) of water, and stir gently until the mixture comes to a simmer. Reduce the heat to low and simmer gently for 25–30 minutes, or until the curry has reduced and thickened.

Remove the pan from the heat and stir through the kale until it wilts down. Serve with the coriander leaves and toasted almonds sprinkled on top, and some basmati or quinoa alongside. This is also delicious served with the Garlic fried vegetable 'rice'.