The Books of #BookTok Reviewed IRL
The Books you've seen and heard about on TikTok reviewed by the Wordsworth Books team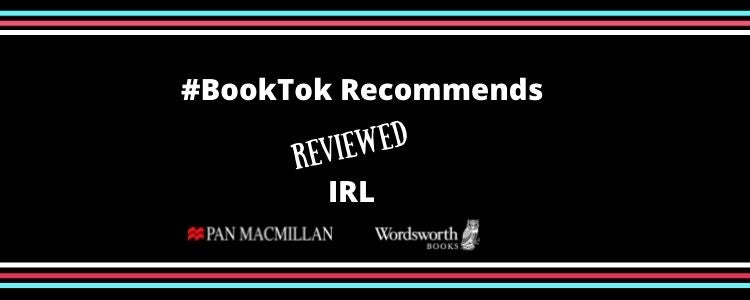 Over the last 18 months, BookTok has taken the world by storm. This rapidly growing TikTok niche has seen books launch with more success than ever before, helped self-published authors sign with major publishing houses, and skyrocketed books onto bestseller lists years after their release.
Alecia, Kelly, and Liza from Wordsworth Books have put together their recommendations for the best BookTok picks. Whether you're in the mood for gritty dark academia, angsty fantasy, or something that will make you feel warm and fuzzy inside, there's something for you!
For Dark Academia fans…
The Atlas Six
If some of the hallmarks of dark academia are unreliable narrators, fierce competition, secret societies, danger, intrigue, and – of course – a strong emphasis on learning, The Atlas Six more than fits the bill. It also has magic!
We follow six talented young magicians brought together by the mysterious Atlas Blakely. They will spend the next year of their lives trying to qualify for initiation to The Alexandrian Society: the caretakers of lost knowledge from the greatest civilizations of antiquity, and the foremost secret society of magical academicians in the world. At the end of the year, five will be initiated; one will be eliminated. It will be the fight of their lives to prove themselves the best among their rivals.
In addition to the immaculate atmosphere and compelling characters, The Atlas Six has great writing, a fascinating magic system, and a mystery that will keep you guessing until the very end.
Kelly Commaille, Wordsworth Assistant Marketing Manager 
The Great Gatsby
If you've run through all of the contemporary dark academia tales and you're thinking of dipping your toe into the classics pond, The Great Gatsby is a perfect place to start. At just over 200 pages, it's a manageable length with clear writing and a plot that can be enjoyed at face value or read on a deeper level as a commentary on the moral failures of a post-War America obsessed with wealth and status.
As young writer Nick Carraway is drawn into the decadent orbit of the elusive Jay Gatsby, he finds himself facing the mystery of Gatsby's origins and desires. Beneath the shimmering façade of his Long Island mansion and indulgent parties lies a secret: a destructive obsession that could destroy his world.
In addition to the inherent link between dark academia and a love of classics, The Great Gatsby offers a perfect example of almost Dionysian-amounts of ecstasy and hedonism.
Kelly Commaille, Wordsworth Assistant Marketing Manager 
Hungry for slow burn enemies to lovers with a dash of angst?
Renegades
If you've ever watched a superhero movie and rooted for the villain (Loki fans, we're looking at you) you should probably read Renegades.
The Renegades are a group of humans with extraordinary abilities dedicated to restoring their crumbled society and replacing chaos with peace and order. They are a symbol of hope, courage, and justice to all… except the villains they once overthrew. Now, a young villain called Nova is on a mission for vengeance. But as she gets closer to her target, a Renegade boy called Adrian may make it more difficult to stay true to her allegiance…
The world-building in Renegades is incredible: Gatlon City was brought vividly to life in my head, and while some traditional superpowers are employed, many of the heroes and villains had fascinating powers that I haven't seen explored before. The characters are brilliantly crafted, with the perfect balance struck between those who stand firm in their convictions (for better or worse) and those whose morality sometimes wavers in shades of grey.
Kelly Commaille, Wordsworth Assistant Marketing Manager  
We Hunt the Flame
In the land of Arawiya, the sands have begun to turn black, and the forest encroaches upon the people. Zafira - a Hunter disguised as a young man - and Nasir - the 'Prince of Death' who assassinates those foolish enough to defy his autocratic father, the sultan -are sent on the same journey to retrieve a lost artifact. Zafira wants to restore magic to her suffering world; Nasir is tasked with killing the Hunter. But an ancient evil stirs as their journey unfolds--and the prize they seek may pose a threat greater than either can imagine. 
With fake identities, found family, a slow burn enemies to lovers romance, and a healthy dose of angst, against a breath-taking backdrop inspired by ancient Arabian mythology, what's not to love?
Alecia, Wordsworth Harbour Bay store manager
Wholesome & heart-warming
Red, White & Royal Blue
If all of that sounds just a bit too grim, a fluffy contemporary romance with a sprinkle of politics might be right up your street.
When photos of a confrontation between America's First Son, Alex Claremont, and his English nemesis, Prince Henry, leak to the tabloids and threaten American/British relations, damage control must be done. The plan: staging a fake friendship between the First Son and the Prince. But as their forced proximity leads to a secret relationship that could derail President Claremont's campaign and upend two nations, Alex and Henry are forced to ask: what is worth the sacrifice?
Red, White & Royal Blue is one of my favourite romances, and I highly recommend not starting it right before bed, because you won't be able to put it down until you finish it in the early hours of the morning. It has the perfect balance of humour, emotion, and both sweet and spicy romance. It also had incredible mental health rep that addressed some very specific aspects of anxiety that I haven't seen depicted before, but resonated with me deeply.
Kelly Commaille, Wordsworth Assistant Marketing Manager 
Under the Whispering Door
When we meet Wallace Price, he is a successful lawyer with no time for other people's feelings. He is also quite dead… and in complete denial about it.
When Wallace ends up at a strange tea shop and meets Hugo, the ferryman who will help him cross to the other side, he is livid about the whole situation. Enter a cast of quirky, colourful characters including Mei (the Reaper), Nelson (Hugo's grandfather and a ghost) and Apollo the dog (also a ghost) along with lost souls, grieving relatives and the feared "Manager". Slowly, Wallace's outlook on life and death starts to change. He also finds himself annoyingly attracted to Hugo!
While Under the Whispering Door has a slower start, I am so glad I persevered with it because at some point it just GRABS your heart and does not let go. This is the most gentle and heart-warming book about death, life, love, second chances and belonging. I sobbed my way through the last third of this book and loved it!
Liza, Wordsworth Willowbridge store manager