Phumlani Pikoli on writing Born Freeloaders
Phumlani Pikoli is a multidisciplinary artist whose writing has been described as 'a generational ode'. He is currently working on a multi-sensory exhibition with the British Council in South Africa, based on his acclaimed debut collection of short stories, The Fatuous State of Severity.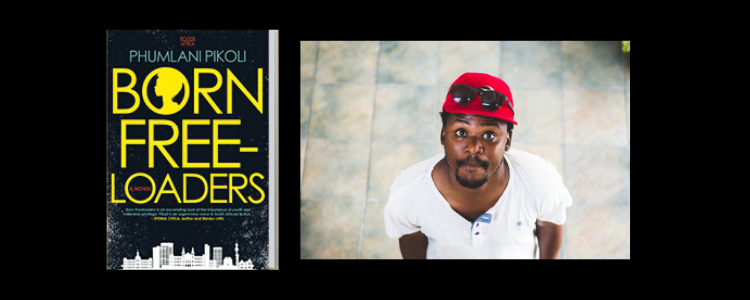 "Born Freeloaders is an excoriating look at the impotence of youth and millennial privilege. Pikoli is an urgent new voice in South African fiction." - Efemia Chela, author and literary critic
He chats to us about writing Born Freeloaders, books he would recommend to a stranger and how other art disciplines inform his writing.
What inspired Born Freeloaders?
Is there a specific moment in your life that propelled you to write this book?
A few things inspired the book. I actually started playing with the idea of it in my early twenties. I guess getting the chance to read books like, Coconut by Kopano Matlwa, and Sello Duiker's Quiet Violence of Dreams were the kernels of seeing young black South Africans existing in literature set in familiar spaces.

Your writing has been described as 'a generational ode'. In both The Fatuous State of Severity and Born Freeloaders, you explore the experiences of young South Africans coping with tensions of various kinds. What is it about these themes that you're particularly drawn to?
I guess I'm just trying to make sense of my own existence by playing around with the chosen themes.

Are you writing for a specific audience?
Yes and no. Yes, in that a lot of what I write about has a sort of reach that people can relate to. No, in that I wouldn't ever want to restrict or limit any sort of audience at this point. I think I'm still very new at this thing, so writing for a specific audience at this point would feel a bit presumptuous.

What does it take to write the 'born free' generation? 
LOL! Um… I don't know, there's so many multi-layered existences within generations, that I'd never want to assume to be writing for a monolithic idea of anyone's experience. I guess, I tried to play around with a lot of the popular conversations that were being directed at the country's guinea pig generation?

If you had to curate a playlist for Born Freeloaders, which five songs would you include? 
I could actually keep going, cause I listened to a whole lot of songs and albums while writing this to sort of create the mood of the book. But I guess the above would kind of be the safest to share and would make the most immediate sense if anyone were to listen and try contextualise them alongside the text.

You are a multidisciplinary artist – how do other art disciplines inform your writing?
I see it as us never really engaging ourselves with one pure sense. So, I try play around with as many of my senses as possible at any given one time and then try to make from there. If that makes any kind of sense...

Is there a book you wish you had written?
There are so many books I wish I had written! But more than that, there are so many more books I wish to write.

What would be your advice to budding writers?
Write! Don't stop!

Phumlani's reading list…
Five books you would recommend to a stranger?
Holiday/Summer 2019 reading list...
Watch Phumlani Pikoli in conversation with Sizwe Mpofu-Walsh, about Born Freeloaders - and the experiences of young South Africans at the intersection of oppression and privilege.