Unwrap the joy of reading this holiday season: book recommendations from the Pan Macmillan team
We asked the Pan Macmillan SA team to share the books that they have recently read and are sure you'll love. The list caters for all ages and includes most genres, from crime thrillers, fantasy, historical fiction to contemporary romance. There is a book for everyone. Scroll to find what to read next this summer.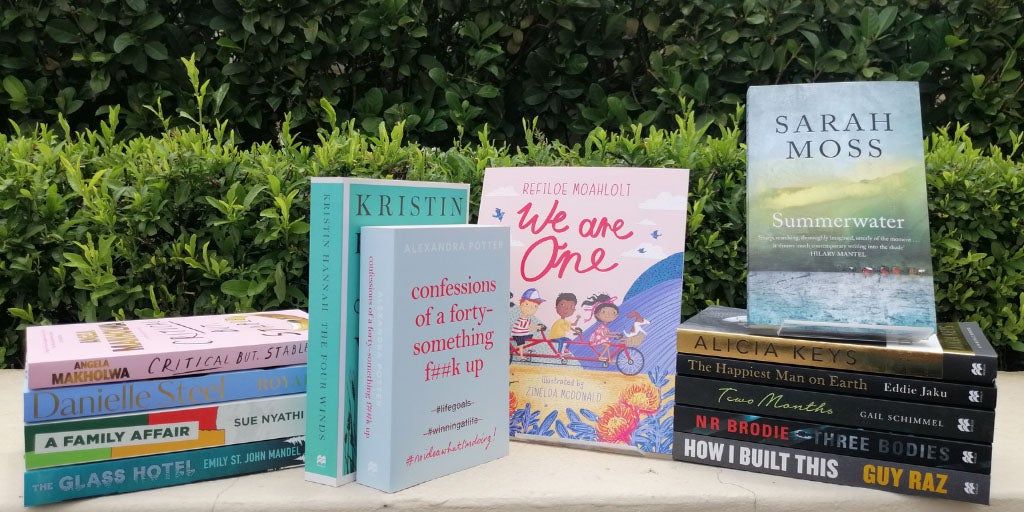 Wind down and relax with these titles:
Hollowpox by Jessica Townsend, recommended by Magdaleen Snyman, Marketing and PR Coordinator
I recommend the third book in the Nevermoor series, Hollowpox: the hunt for Morrigan Crow: The Nevermoor series is perfect for holiday reading because it offers escapism, adventure and magic. Opening a new book in this series feels like Christmas morning to me. Diving into the world of the magical Hotel Deucalion, riding the Brolly Rail and meeting Wunimals is exciting and enchanting. But there is also suspense and darkness in this story which sparks my curiosity and keeps me reading long after my bedtime. This is the third book in the series and features Morrigan battling a new evil as a strange, frightening illness has taken hold of Nevermoor. These books are fast-paced yet excellently constructed and filled with twists and turns. Morrigan is a complex and strong character and I can't wait for her next adventure.

The Happiest Man on Earth by Eddie Jaku, recommended by Marianne Van Loggerenberg, Sales Representative & Product Manager: Macmillan Children's Books and Walker Books
Also, from Marianne
The Girl with the Lost Smile by Miranda Hart
Oi, Dog, Oi Cat, Oi Frog, Oi Book, which one shall I choose next? By Kes Gray, Jim Field.
I'm currently reading The Happiest Man on Earth - The Beautiful life of an Auschwitz Survivor, written by Eddie Jaku. And how happy can one be to celebrate 100 living years on this earth. His life story is an inspiration of the gift of life that can change in an instant and then, what do you choose, how will you live the rest of your life even when you are uncertain of what might or might not happen. And then of course next to this one stands another one, The Girl with the Lost Smile, written by Miranda Hart. These two books go hand in hand. One takes you on a real-life journey of hardship and darkness, moving towards the light. The other one takes you on a little girl's imaginary journey, finding back the smile she thought was lost forever. Both books are flying together on a magic carpet. 😊


The Elephant Whisperer by Lawrence Anthony, Graham Spence, Naomi Clark, recommended by Liesbet Gelderblom, School Sales Representative
I'm finally reading The Elephant Whisperer. I've always been fascinated by elephants. Reading Anthony Lawrence's heart-warming story, I'm even more intrigued by these intelligent, emotionally complex, sentient beings. Remarkable, sad, magical - a great read.

The Four Winds (coming February 2021) by Kristin Hannah, recommended by Gadija Gordon, Sales Consultant
A heart-breaking novel and so beautifully written. The depiction of the characters really enthralled me.  Desolation, devastation, heartache, heartbreak, and loss. The Four Winds is a novel that encompasses all of those words and yet it is also about survival. The ability to survive during the absolute worst of times. Family, friendship, and love are also prevalent themes in this book and Kristin Hannah showcases them all beautifully. What resonated with me was this book's underlying message which is that a human being can survive anything - which I think is especially true for all of us to remember right now.
**The Four Winds cover on the blog image is not the final cover.

The Glass Hotel by Emily St. John Mandel, recommended by Veronica Napier, Senior Publicist
This beautifully crafted novel begins at the end and moves between breathtaking locations and complex characters to unravel the story. There is an underlying mystery and unease throughout the book. An imploding Ponzi scheme, terrible betrayal and the fallibility of the characters make this a very compelling read. In his book, he shares with you people's stories. People who face a problem and think, 'hmm, I can't be the only one who faces this challenge - I should do something to solve this problem.'

Royal by Danielle Steel, recommended by Rhulani Netshivhera, Children's Product Assistant
I was engrossed in this story from the first page. All the elements that make the reader engaged. There is love, royalty, history, family ties, and much more. At what length would you go to protect someone? If you are a fan of historical fiction then you will enjoy this story. The war time setting adds a layer as well.
Also, from Rhulani
Critical But, Stable by Angela Makholwa
I really enjoyed reading this book and I was also checking if I could relate to some characters in the book but they are too glamorous. It is about love, challenges couples encounter in a marriage or a long-term relationship. Makholwa gives us a glimpse of what it really costs to maintain a lavish lifestyle and a perfect marriage appearance by letting us snoop into the lives of three glamorous couples. We get to follow the Jiyas, Manamelas, and Msibis, who belong to an elite social club, called Khula Society. We witness how they use success, wealth, luxury, extravagant parties, glitz and glamour to sugar-coat some of the truths behind their high walls and affluent lifestyles.
How I Built This by Guy Raz, recommended by Sherry Neville, Commercial Manager
I don't consider myself an entrepreneur by any stretch of the imagination and I don't normally read 'business' books but I'm a fan of the Guy Raz podcast where he interviews entrepreneurs.
Three Bodies by N.R. Brodie, recommended by Precious Legoabe, Key Customer Supervisor
A thrilling suspense story based on JHB inner city with Alex, sangomas and police working together to catch a famous cash in transit heist gangs destroying the economy of SA known for using body parts as muthi to be strong and invisible or not caught in the act. Innocent unsuspecting lives are at risk and lost during the process. This is a book that has kept me on the edge of my bed for two days and opened my mind and understanding of our country, a country united amid to solve crime.

Also, from Precious
Two Months by Gail Schimmel
A Psychological crime book of mind, body and soul. The past will always catch up with you. When a teacher is framed by her former classmate for inappropriately touching a young boy at school her life gets turned upside down in this effect, she ends up not trusting her husband who has assured her all things will be back to normal. Two Months has many twists and turns, it is mind-opening and forces one to really apply one's mind when on social media and the kind of friendships we keep.
Currently reading Find Them Dead by Peter James. Still not far in the book but as Peter James is one of my favourite crime authors, I have a good feeling that this will be another roller coaster ride with mysteries, facts and good detective work by Roy Grace. I have goosebumps just looking at the book.
Confessions of a Forty-Something F**k Up by Alexandra Potter, recommended by Frances Thorndike, Cape Sales Representative
An underrated, life-affirming read that I thoroughly enjoyed despite the title, namely: "Confessions of a Forty-Something F##k Up" which is a charming and insightful look at female friendship and the unrealistic expectations we have on achieving our life goals.

More Myself by Alicia Keys, recommended by Dee Miloa, Digital Communications Coordinator
Affirming and beautifully written with so much soul and authenticity, Alicia Keys' More Myself is one of the best memoirs I've read recently. When Alicia Keys' first album was released in 2001, I was in my pre-teen years. In the age of owning a music book and writing lyrics of popular songs. I was a huge fan, loved her look and music (influenced by my big sisters). Somewhere along my teen years, I stopped following through her music career. But I've always admired her. In every interview, she's shown so much depth, raw presence and a peaceful spirit. Over the years, she's successfully carved a unique style of music and built a strong brand. She's managed to stay relevant and from my observations, she's always been someone I've seen as true to herself, work and position in the industry and as an influencer.
Alicia writes, "truth in its rawest form is what resonates most powerfully", and in the book, she opens up about her past, music, family and experiences in the rawest and most truthful way. With every chapter, she takes us on her journey growing up in Hell's Kitchen and Harlem, her phenomenal music career and shares about her complex relationship with her father, romantic relationships and personal struggles with conforming to modern-day beauty standards. She also talks about using her voice and platform to advocate for social justice and equality, and the various movements she's co-founded and supports. If you are a fan of her music, you'll appreciate the stories behind some of her greatest hits, her come up and encounters with her biggest musical influences and mentors.
One of the chapter's I enjoyed reading, was on writing the smash-hit and one of my all-time favourites, Empire State of Mind with Jay-Z - a song they collaborated on in tribute to their hometown, New York. So, whether you are a fan of Alicia or looking for your next non-fiction read, you will enjoy the book and get a sense of who Alicia is, what inspires and fuels her passions." 
Also, from Dee
We are One by Refiloe Moahloli
A beautifully illustrated book that every child should own. The book touches on kindness, love and the importance of recognizing that We are One. Simple yet so captivating.
I loved, loved reading Simunye, the isiZulu version with my nieces and nephew, and celebrating diversity. It's important for my nieces and nephew to see themselves in books, but what I also appreciate about this book is the diverse representation. It's also important for children to see other characters different from them so they can expand their worldview. Refiloe's stories are beautiful, they've helped me teach the little ones about kindness and empathy.

A Family Affair by Sue Nyathi, recommended by Tazmin Morgan, Sales & Marketing Coordinator
Sue Nyathi's A Family Affair is the perfect book to keep you company over this holiday period. This book is packed with drama from chapter to chapter, that even when you are not reading – you will be wondering what a character will be doing next.
This book looks at the structure of the family and the picture-perfect façade that a family sometimes creates while under the surface there are tails of deceit. Even though the Mafu's appear to be a tight-knit family, there are many conversations that need to be had and eventually bubble over in often sad and traumatic ways. I found myself giggling with mischief in some parts of the book, and in some cases, reading through paragraphs with tear-filled eyes.
This is a story of sisters trying to find the love they deserve, keep their family together while battling their internal and societal issues. We all know versions of Zandile, Xoliswa and Yandisa, and the Mafu family as a whole. Sue Nyathi crafted extremely relatable characters that will stick with you long after you have read the last sentence.
**Trigger Warning: There is domestic abuse that is discussed in A Family Affair. 

Also recommended by the Pan team:
Summerwater by Sarah Moss
From the acclaimed author of Ghost Wall, Summerwater is a devastating story told over twenty-four hours in the Scottish highlands, and a searing exploration of our capacity for both kinship and cruelty in these divided times. HERE, Sarah and her editor Kishani Widyaratna discuss how she approaches her writing, collective anxieties and how history has shaped us all.
These are not gentle people by Andrew Harding
These are not gentle people is the story of that night, and of what happened next. It's a courtroom drama, a profound exploration of collective guilt and individual justice, and a fast-paced literary thriller. When a whole community is on trial, who pays the price? Read an extract HERE.
Sermons of Soul by Iman Rappetti
Sermons of Soul brings you the best-loved opening segments from Iman Rappetti's award-winning radio show, POWER Talk. With each daily sermon, Iman sought to reach out to her listeners and give them something special before the day's tough subjects unfolded on the programme. She wanted to create a moment for them to feel appreciated, thought of, challenged or cared for. Watch Iman introducing her inspirational book HERE.
The 130-Storey Treehouse by Andy Griffiths and Terry Denton
There are lots of laughs at every level in The 130-Storey Treehouse, the tenth book in the number one bestselling Treehouse series from Andy Griffiths and Terry Denton. Watch Andy introducing The 130-Storey Treehouse as well as answering questions from fans HERE.

Blog compiled by Khanyisile Zondo
Intern and Wits University Honours student (African Languages and Literature)