Virtually connect with our authors at this year's South African Book Fair
The South African Book Development Council (SABDC) has announced that the 2020 edition of the South African Book Fair (SABF) will be going ahead as a virtual event taking place from 11-13 September 2020 at the culmination of South Africa's National Book Week.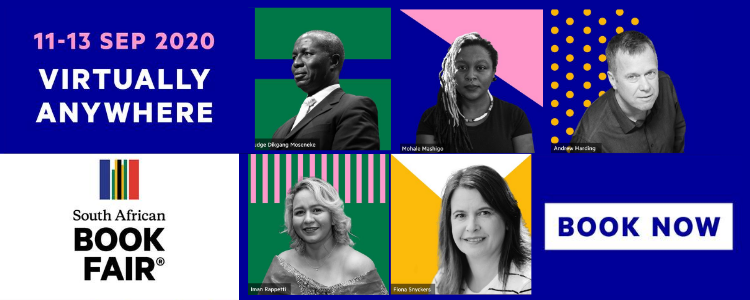 This year's virtual South African Book Fair, while a simplified version of the annual physical fair, will offer a full and exciting programme of stimulating discussions, entertainment and fun to ensure that there is something for everyone. The virtual event will include a mix of poetry sessions, author-led panel discussions, SMME skills development workshops, the industry marketplace as well as the beloved National Book Week Magic Tent which will also take flight into the digital realm. Read more HERE
This year's virtual fair will see over 23 expert and author-led panels or sessions engaging with topical issues with the books to match. Here are Pan Macmillan authors part of this year's fair.
Saturday | 12 September
11:30 – 12:30
Time, Space And The Anthropocene: Fiction And The Fall Of Man
Lauren Beukes (Afterland), Siphiwe Gloria Ndlovu (Theory Of Flight) and Mohale Mashigo (The Intruders), explore the similarities between the fictional universes of their books along with magic realism, our current reality and more. James Murua steers the conversation.
13:00 - 14:00
White Privilege
Melinda Ferguson (Smacked; Hooked), Fiona Snyckers (Lacuna) and Dr Sarah Godsell (Liquid Bones) speak frankly to Prof Christi van der Westhuizen about the meaning of white privilege – globally and in the context of South Africa.
14:30 - 15:30
Law And Justice
Justice Dikgang Moseneke (All Rise - A Judicial Memoir), Andrew Harding (These Are Not Gentle People) and Advocate Tembeka Ngcukaitobi (The Land Is Ours: South Africa's First Black Lawyers And The Birth Of Constitutionalism) discuss the successes and failures of the South African constitutional law in delivering justice. Prof Tshepo Madlingozi navigates this walk, and talk, through the law.
14:30 - 15:30
Exposé! Stories That Gripped The Nation
What does it take to be an investigative journalist? Join Jacob Dlamini (The Terrorist Album), Rehana Rossouw (Predator Politics: DD, Fred And The Great Land Scam) and Qaanitah Hunter (The Balance Of Power) as they explore the perils and rewards of their important behind-the-scenes work with Iman Rappetti, author of Sermons of Soul.
Sunday | 13 September
15:30 - 16:30
Hiding In Plain Sight: Exposing The Villains Of Past And Present
South Africa remains ravaged by deceit. Is hiding the truth ever possible? Join Jacob Dlamini (The Terrorist Album), Imtiaz Ahmed Cajee (The Murder Of Ahmed Timol) and Rehana Rossouw, (Predator Politics: DD, Fred and the Great Land Scam) as they reflect on how the past finds its way into the present through the real-life stories captured in their books. Gaongalelwe Tiro, author of Parcel Of Death: The Biography Of Onkgopotse Abram Tiro, facilitates.
To download the programme CLICK HERE
An entry ticket for only R50 gives you access to the full three-day event taking place between 11-13 September and featuring an engaging, stimulating and entertaining programme and the fair's signature industry marketplace. Tickets will be available via the South African Book Fair website: www.southafricanbookfair.co.za