Kim-Julie Hansen's smoky red pepper quinoa bowl
Whether you are already vegan and simply want to learn how to prep meals and live a more balanced life, or you are brand new to the lifestyle or a meat-eater looking to kick-start healthier habits, this book is for you.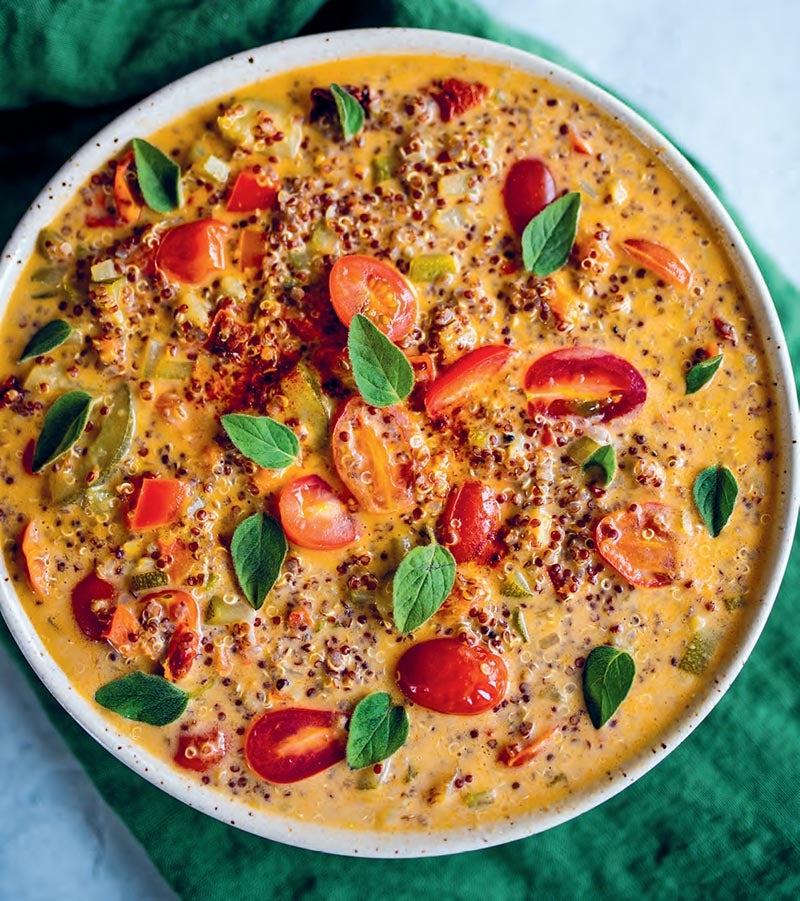 Total time

35

Prep time

20

Amount

2

Ingredients

85 g uncooked red quinoa
370 ml water
2 small or 1 large courgette(s)
2 red peppers
2 garlic cloves
250 ml tinned full-fat coconut milk
3 tablespoons dried onion flakes
2 teaspoons smoked paprika
1 teaspoon paprika
Sea salt and ground black pepper (to taste)
225 g cherry tomatoes (halved)
8 sun-dried tomatoes (preferably oil free) chopped
Fresh oregano leaves (for garnish)
1. Rinse the quinoa. Combine it with the water in a large pan and simmer for about 10 minutes. Add a little more water if the quinoa looks too dry.

2. Meanwhile, dice or chop the courgette(s) and peppers and mince the garlic.

3. Reduce the heat to medium and add the courgette, peppers, garlic, coconut milk, onion flakes, smoked paprika, paprika, salt and pepper. Cook over low to medium heat for 5 minutes.

4. Add the cherry tomatoes and sun-dried tomatoes and let simmer for 5 more minutes.

5. Stir well and add more seasonings if desired. Serve garnished with the oregano.