Meet our authors at Kingsmead Book Fair 2019
Kingsmead College is hosting its eighth annual book fair, under the theme "Read and Rise."

Don't miss out on the opportunity to meet and engage with Pan Macmillan authors. The book fair promises interesting discussions, heated debates and in-depth dialogues.
Visit our events page for Pan author sessions with: 
Sue Nyathi (The Gold Diggers)
Mohale Mashigo (Intruders)
Rekgotsofetse Chikane (Breaking a Rainbow, Building a Nation)
Vanessa Raphaely (Plus One) 
Francoise Malby Anthony (An Elephant in my Kitchen)
Tony Park (Scent of Fear)
Rebecca Davis (Self Helpless – A Cynic's Search for Sanity)
Khaya Dlanga (These Things Really Do Happen to Me)
Iman Rapetti (Becoming Iman)
Luke Alfred (Vuvuzela Dawn)
Gail Schimmel (The Accident)
Fiona Snyckers (Lacuna) 
Mandy Wiener (The Ministry of Crime)

Entrance tickets: R70 | Session tickets: R60 each
Children's Programme is included in the entrance fee
Find the full programme and get your ticket here.
We're also proud to present two of our favourite local children's book authors at this year's book fair. 
Join Refiloe Moahloli, author of How Many Ways Can You Say Hello and Tullula, for an action-packed reading of her new picture book: Yes Yanga! With vibrant illustrations by Mogau Kekana and a glossary at the back this proudly South African story will delight young sport lovers and their parents as they watch Yanga's rise from 3 Tins champion to Protea cricketer.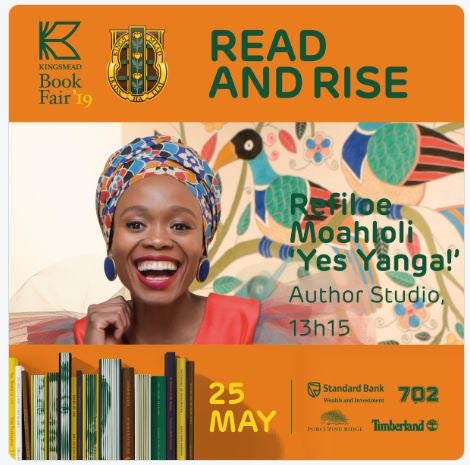 Budding authors between the ages of 12-14 should head over to the Teen Studio Library for a writing workshop with international award-winning Fantasy author, Hayley Chewins. Join Hayley to learn all about weaving magic into your words and creating worlds readers just can't get enough of. Be sure to pick up her incredible debut novel The Turnaway Girls for even more poetic inspiration.